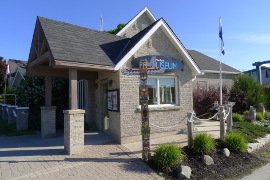 The Meaford Museum is developing a Strategic Plan, and they want to hear from residents. Share your thoughts on Museum programs and services by filling out a survey, or coming to a focus group.
The Strategic Plan will guide the management and growth of the Meaford Museum and its collection. It will also act as a guide for Council, staff and volunteers and include the museum's objectives, priorities and goals over the next decade.
"Having a completed Strategic plan will allow the Meaford Museum to qualify for the Community Museum Operating Grant, but it will also do much more," said Director of Community Services Matt Smith. "Even small museums like ours can benefit from a strategic plan that provides a vision and direction for operations, and it's essential that it be informed by community feedback."
The survey can be found in hard-copy at Municipal facilities or online at www.surveymonkey.com/r/MeafordMuseumStratPlan.
Two in-person focus groups have also been scheduled:
February 26, 2020 – 6:30 p.m. to 8:00 p.m. at the Meaford Museum

March 10, 2020 – 3:00 p.m. to 4:30 p.m. at the Meaford Museum
These sessions are open to the public and anyone with an interest in the museum is welcome to attend.
For more information visit www.meafordmuseum.ca.