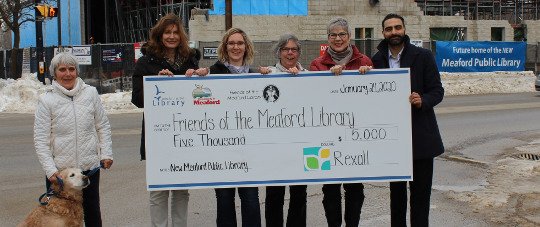 The new Meaford Public Library Fundraising Committee has announced that Rexall Pharmacy Meaford recently donated $5,000 to the new library building campaign.
The donation comes as the construction of the new accessible library building is proceeding well. A group of library supporters and staff as well as Rexall representatives gathered in front of the new building to celebrate this generous contribution.
Rexall Pharmacy Meaford's Front Shop Manager Lori Jones commented at the cheque presentation, "Rexall Meaford is proud to make a $5,000 donation to the building of a new, fully accessible library in the community. The Meaford Public Library strengthens our community and inspires lifelong learning. It also provides a respite for many of the caregivers in our community, as well as excellent programming and services to our residents and visitors alike. We look forward to having this important new library building on our main street and along the riverbank. The new location will offer convenience, beauty, and knowledge to all who visit."
The Fundraising Committee reports that it has raised more than $575,000 and is well on its way to the final goal of $750,000.
Donations to the campaign can be made at the library or online at: www.meaford.ca/newlibrary.
Photo: In photo from left, Mardi Puttick (with Darla), Lynne Fascinato, Amy Solecki, Jane Leckenby and Rexall's Lori Jones and Ricky Tiwana.