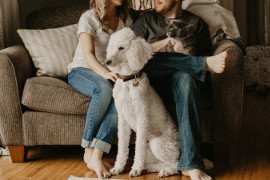 There is no doubt Meaford is a pet-loving community, and we are darn proud of it!
Recently, in the summer of 2019, Meaford was the only Canadian municipality to receive the prestigious Certification for Pet Friendliness from the Better Cities for Pets Organization.
This certification is awarded to cities and towns that go above and beyond in making their community four-legged-friend-friendly, with an ongoing commitment to the development and promotion of pet-friendly initiatives. Of the twenty-five North American communities awarded this certification for pet friendliness, included were major U.S. cities like Memphis, Oakland, Tucson, and Dallas.
What makes Meaford such a special place for pet lovers?
Firstly, you can't think about Meaford and pets without thinking of Beautiful Joe. In 1893, the true story of Meaford's own Beautiful Joe inspired author Margaret Marshall Saunders to write her bestselling novel, which has since sold millions of copies in dozens of languages. The story of Beautiful Joe made a monumental impact on the global awareness of animal cruelty. It was the very first Canadian book in history to sell more than one million copies. Beautiful Joe Park in Meaford hosts thousands of visitors annually from all over the world.
Meaford also has the popular Beautiful Joe Leash Free Park, featuring two separate fenced-in spaces for dogs of all sizes to run, play, and socialize in a controlled, spacious setting.
Throughout the winter months, Memorial Park's beautiful walking trails are open to off-leash dogs, and in the warmer months there's a sizeable leash-free dog beach.
In addition to all these wonderful pet-friendly amenities, the annual Meaford Pet Expo welcomed thousands of pet lovers from all over Ontario this past July, and is growing at an exponential rate going into its third year.
It's no secret that Meaford's pet lovers want what's best for their furry companions. That's why Canadian Pet Connection has teamed up with local pet-related businesses to establish Meaford's first Pet Health & Wellness Centre.
Located in the current Canadian Pet Connection building at 278 Cook Street (beside the Factory Outlet), this new facility will serve as a full-service community hub for pet owners, offering a multitude of in-house services, workshops, and seminars to meet the needs of all pet owners.
Professional Dog Grooming
We are absolutely thrilled to announce our partnership with Meaford's best pet groomer, Bekah Chapman, from The Pampered Paw Spa. Bekah provides gentle, one-on-one pet grooming services, focusing on low-stress techniques to ensure every four-legged client is calm, relaxed, and happy.
As a finalist in the most recent Meaford Dragon's Event this past October, Bekah received tremendous support from both the Dragons and the community as she presented her business goals and aspirations to the panel and audience. One recurring piece of advice Bekah received from the Dragons was to move to a larger space that could accommodate the growth of her business. Bekah has done just that, and will soon be operating out of Canadian Pet Connection's Health and Wellness Centre beginning February 2020.
Positive Reinforcement Dog Training
This past November, Canadian Pet Connection hosted the first (of many) puppy training classes, quarterbacked by Jodie Hawker from Happy Paws Canine Solutions, a Meaford-based trainer focusing on force-free, positive reinforcement dog training. Beginning this month and going forward, we will be offering monthly puppy and adult training group classes.
Jodie has committed her life to helping dogs in need in Canada and many parts of North America, including the Bahamas. Jodie is the head dog trainer at Georgian Triangle Humane Society, and holds multiple certifications in force-free dog training, canine behaviour, and more. Friendly, professional, and attentive, Jodie helps pet owners create a more positive, meaningful relationship with their dog.
Meaford's First Indoor Doggy Play Space
When it comes to healthy, positive canine socialization, a safe and controlled setting is essential.
Introducing Meaford's first indoor doggy play space! Canadian Pet Connection's new indoor play space is the perfect place for dogs to make new friends, try out new toys, and even play with some agility equipment. An indoor play space is especially convenient on rainy or snowy days; your dog can get the stimulation and exercise they need, without getting messy - while you sip your coffee in comfort!
Expanded Retail Will Have Your Tail Wagging
As the demand for pet services and high-quality pet supplies increases, so does the demand for more space. In order to serve our clients better, our new Health and Wellness Centre expansion will triple our existing retail space, allowing us to continue providing Meaford's largest selection of premium products for dogs, cats, and even small pets. One feature we are really excited about is our new dog toy wall spanning over 40 feet wide!
And, as always, we are very selective with the products we sell, so pet owners can shop with confidence, knowing every product in our facility has been carefully vetted by our team of pet nutrition and behavioural experts.
Health and Wellness Consultations from Certified Professionals
Pet health and wellness has always been one of our core values.
For almost thirty years, Canadian Pet Connection has specialized in healthy pet lifestyles. We are an independent family-owned company comprised of pet lovers, and firm believers in responsible pet ownership. Whether our clients have questions or concerns related to nutrition, behaviour, and everything in between, our highly skilled, certified pet experts are proficient in pet problem solving. It is this expertise that has made us an industry leader in healthy pet lifestyles for decades.
Best of all, you don't need an appointment, either! Simply visit or contact us during regular business hours. We are happy to help.
The whole Canadian Pet Connection family feels proud and privileged to be part of a community committed to a pet-friendly culture. With our new Pet Health and Wellness Centre, it is our pledge to provide the pet-loving residents of Meaford and surrounding areas with nothing but the highest-quality pet products and services, combined with intelligent, unbiased information promoting responsible pet ownership.
Check out our Grand Re-opening on February 8, from 1 – 3 p.m. Enjoy free nails trims from The Pampered Paw, samples and giveaways, meet the trainer, and more! Plus, enter for your chance to win three months of free dog food.
Here's to being the best pet-friendly municipality in Canada!
Brandon Forder, known as The Pet Expert, is vice-president of Canadian Pet Connection, an industry leader in healthy pet lifestyles. Brandon holds multiple certifications in pet nutrition, and has more than twenty-five years' experience specializing in pet health and behaviour. He has written hundreds of informative pet-related articles for newspapers, magazines, radio, and the popular Ask the Pet Expert Blog. Brandon is highly skilled in pet problem solving, and enjoys teaching others about smart and responsible pet ownership. To learn more, visit www.CanadianPetConnection.ca.