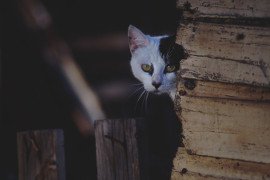 For decades the town of Meaford has had a feral cat problem, and they'll continue to have this problem for decades more.
This year, we've seen the closing of Meaford Homeless Cats, an organization dedicated to catching, spaying, and releasing feral cats back into the neighbourhood to cut down the current feral cat population. Meaford Homeless Cats has also re-homed cats whenever possible, getting them off of the streets entirely.
While re-homing feral cats may seem like the most sensible approach, studies have shown that spay-and-release programs can drastically cut down on feral cat populations, while taking the least amount of resources. Due to their temperaments, many feral cats are not well-suited for indoor settings, making catch-and-release the best option.
Another local organization, the Blue Mountains Animal Shelter in Thornbury, is also closing their doors in early 2020. The announcement comes reluctantly, as shelter volunteers would prefer to continue on with their mandate. Unfortunately, due to a lack of funding and volunteers, the decision has been made to close their doors.
Dena Lewin, founder of Meaford Animal Rescue, has been working for over 40 years to control local feral cat colonies, and the shrinking pool of like-minded organizations has created quite a bit of strain on her community efforts.
These changes now leave a gaping hole in the Meaford area, as the closest cat rescues are located in Owen Sound and Collingwood. The Grey Bruce Animal Shelter, while technically in Meaford, is located between Sydenham and Chatsworth, however they only take animals that are surrendered from home environments, not feral cats. These shelters are heavily focussed on their immediate areas, and will rarely, if ever, have the time and resources to care for the needs of animals in Meaford. This isn't because they don't want to help, of course, but more so because of lack of time, volunteers, and resources.
Why is this such a big concern?
First of all, it's important to understand how quickly a feral cat colony can grow. One un-spayed feral cat can have up to 18 kittens in one year. Over the course of five years, that same cat and her kittens can have up to 20,000 kittens. Yes, you ready that correctly - twenty thousand new feral cats in only five years.
Now imagine we start with ten female cats, instead of just one. That's upwards of 200,000 feral cats. At that point, it's not just a feral cat problem; it's an absolute epidemic.
What you can do to help
Firstly, spay and neuter your house cats! If there's a chance your intact house cats could get outside, there's the likelihood they could perpetuate the feral cat problem. If spaying or neutering is unaffordable to you, consider speaking with the Municipality of Meaford; they've partnered with the Georgian Triangle Humane Society (GTHS) to provide spay and neutering services through their Meaford Cats initiative, which provides assistance to low income households.
Consider donating cash, cat food, or litter to help Meaford Animal Rescue. Donations may be dropped off at Canadian Pet Connection, located at 278 Cook St (right beside the factory outlet) any time throughout the year.
If you happen to see a new feral cat colony developing in your area, alert local animal control right away.
Brandon Forder, known as The Pet Expert, is vice-president of Canadian Pet Connection, an industry leader in healthy pet lifestyles. Brandon holds multiple certifications in pet nutrition, and has more than twenty-five years experience specializing in pet health and behaviour. He has written hundreds of informative pet-related articles for newspapers, magazines, radio, and the popular Ask the Pet Expert Blog. Brandon is highly skilled in pet problem solving, and enjoys teaching others about smart and responsible pet ownership. To learn more, visit www.CanadianPetConnection.ca.