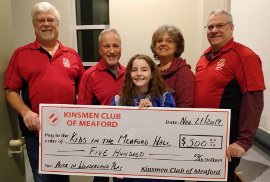 Recently, the Meaford Kinsmen presented a cheque to Rhonda Emerson and "Alice" from this years production of Alice in Wonderland, a play by The Kids in the Meaford Hall.
The donation helps this hard-working group to stage a play each year at Meaford Hall. The two shows Thursday, Dec. 5th are for school children and will be performed at 10AM and 1PM and then the group will put a third performance on Friday at 1PM for the remaining classes and finish with a 7PM show that is open to all ages. Tickets are available for the Friday night show through Meaford Hall.
In the photo, from left to right are Kinsmen, Life Member- Tom Bumstead and Vice-President Tony Weldrick, Jayla White as Alice, Rhonda Emerson with Kids in the Meaford Hall and Kin President Ken Tyhurst.