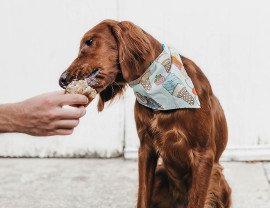 The pet food industry has evolved rapidly over the last decade, and with that, pet owners are now more educated than ever on what they feed their furry best buddies. In fact, the quality of today's super-premium pet foods is not much different from meals served in fine-dining restaurants.
And due to the multitude of brands available in North America (can you believe there are more than 500?!), healthy pet foods are now more plentiful and affordable than ever.
At some point in time, all industries have used clever yet deceptive marketing to promote their products to ensure buyers come back for more. How many of us, for example, grew up believing that milk is the only source of calcium, and that without it we'd have frail, brittle bones? That's the dairy industry hard at work promoting their products. And while there's no doubt that milk is rich in calcium, milk itself is not an essential part of a balanced diet.
Unfortunately, the pet food industry is not immune to this form of marketing manipulation either.
Let's take a look at some of the lesser-known, sneaky things the pet food industry doesn't want consumers to know.
The Best Quality Pet Foods Rarely Have TV Commercials
Many of today's highest-quality pet foods are not widely known household names. Much of this is due to their size and scope in relation to grocery, and 'big box' brands; they do not have the dollars to continually invest in big market media compared to multi-national, billion-dollar mega brands.
When it comes to the top 1% of pet food brands, much of their revenues are allocated to sourcing the best-quality, most wholesome ingredients available, investing in research and development of state-of-the-art manufacturing technologies, and giving back to shelters and rescues.
Many super-premium brands are not found in big-box pet stores, either. Instead, these niche companies grow their brands by developing relationships with pet specialty retail stores, where staff are generally far more educated in pet nutrition and are capable of providing a better understanding of healthy pet lifestyles.
Lesser-quality, discount brands, like the ones commonly found in grocery stores, tend to do the opposite in terms of growing their brands; spending millions on television commercials depicting happy pets devouring their favourite multi-coloured kibble. These commercials show big chunks of meat, fruits, and veggies, however, what is actually in the food is often far from what is advertised, and may include a multitude of undesirable ingredients. These highly processed, mass-produced products can be very deceptive in their advertising, and generally target pet owners with insufficient understanding of pet food labelling.
Feeding A Less Expensive Pet Food Isn't Always The Most Affordable Option
Many pet owners believe feeding a less expensive pet food is more affordable, however that is often not the case. It all comes down to quality versus quantity.
High-quality pet foods using wholesome, healthy ingredients are more calorically dense than low-quality alternatives. This means that you not only feed less to your dog, a bag of food will also last longer. Less expensive brands may cost less per bag, however, you will almost always feed more (sometimes twice as much) compared to higher quality alternatives.
It is not the cost of the bag that matters, but rather the cost per meal. Once you figure that out, you may be surprised to realize certain discount brands don't offer as much value as advertised.
Not All Meats Are Equal, But There Aren't Any Labelling Laws To Let Consumers Know That
The pet industry is very loosely regulated; something countless pet food manufacturers have taken advantage of for decades, and continue to do so today. When it comes to pet food labelling, there are no requirements to list the quality of any given ingredient. This means that chicken in one food may be vastly different in quality than another, however it may read the same on the label.
When it comes to ingredient terminology, pet food labelling must follow certain guidelines set by the American Association of Pet Food Officials (AAFCO). However, there are no labelling criteria when it comes to the actual quality of pet food ingredients. For example, one brand may use chicken in their food, consisting only of federally-inspected, human-grade quality. On the other side, another brand may use chicken that falls under the infamous '4-Ds'; meat from dead, dying, diseased, and/or disabled animals. Both of these ingredients, while completely different in terms of their quality, may be labelled as the same thing: chicken.
Without doing their due diligence beyond reading the pet food labelling, it is very difficult for pet owners to truly know what they are feeding their pets in terms of ingredient quality.
Are you surprised by some of these sneaky secrets?
Next Week: Stay Tuned for "Sneaky Things The Pet Food Industry Doesn't Want You To Know - Part Two"!
Brandon Forder, known as The Pet Expert, is vice-president of Canadian Pet Connection, an industry leader in healthy pet lifestyles. Brandon holds multiple certifications in pet nutrition, and has more than twenty-five years' experience specializing in pet health and behaviour. He has written hundreds of informative pet-related articles for newspapers, magazines, radio, and the popular Ask the Pet Expert Blog. Brandon is highly skilled in pet problem solving, and enjoys teaching others about smart and responsible pet ownership. To learn more, visit www.CanadianPetConnection.ca.