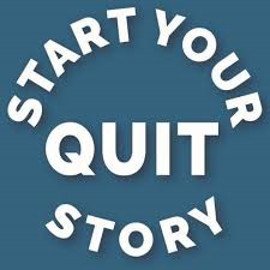 Start Your Quit Story, a campaign featuring personal experiences from people who have quit smoking, launches across southwestern Ontario this week. By sharing personal stories and asking the question,"This is my quit story, what will yours be?" the campaign aims to inspire others to quit smoking and create a space where people feel supported to quit.
Tobacco remains the leading cause of preventable disease and death in Ontario, killing more than 13,000 Ontarians every year. In Grey Bruce, more people have quit than currently smoke. More than 38,0001 individuals call themselves former smokers compared with about 22, 0001 current smokers. Many smokers have said they would like to quit and about 60 percent plan to give it a try in the next six months.
The Start Your Quit Story campaign showcases the realities of smoking-related illness and the benefits of quitting smoking. It also highlights supports that are available and allows people in the community to connect, encourage and support one another.
"Quitting smoking is a huge accomplishment. We hope to provide an opportunity for people to share their stories with each other about quitting," says Beth Karrow, a Public Health Nurse with the Tobacco Program at the Grey Bruce Health Unit.
Everyone has their own story. Like many smokers in Grey Bruce, Wendy started noticing the impacts of smoking on her day-to-day life, "I had a hard time playing with my youngest granddaughter, I couldn't keep up with her". Wendy has been smoke-free for six years now and proudly says, "I know I have a better chance of being around for them long term. I want to be there when they graduate high school, college, get married, have children."
What will your quit story be?
Find videos and an open discussion board on the Facebook group @StartYourQuitStory. The Grey Bruce Health Unit encourages anyone who is currently smoking, thinking about quitting or has quit smoking to visit the Facebook group and join the conversation.
Anyone who is looking for support to quit smoking can:
· Talk to their doctor or healthcare provider about supports and options available to them
· Call the Grey Bruce Health Unit at 1-800-263-3456
· Visit www.smokershelpline.ca for text support, online support and resources
· Call Telehealth Ontario at 1-866-797-0000 for over-the-phone support
· Join @StartYourQuitStory on Facebook