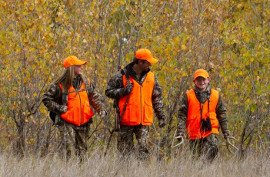 November 4, 2019, starts a week when deer hunting with a rifle is permitted for those with appropriate licences and tags in this part of Ontario. For those considering hunting on a Grey Sauble Conservation Authority (GSCA) property it is important to be aware of where this activity is and is not permitted.
"Please be aware that GSCA only permits hunting on some of our properties, and certain restrictions may apply. To see the properties where this activity is permitted go to www.greysauble.on.ca. You can also purchase a copy of the map for $10 at the Grey Sauble Administration office. Please feel free to call GSCA for more information," explained Tim Lanthier, Interim General Manager.
As not all GSCA properties permit hunting, and this activity may pose a safety issue to non-hunters, GSCA staff and the Ministry of Natural Resources and Forestry will be monitoring for permitted uses on GSCA properties.
"We suggest that you avoid hiking and other recreation activities in areas that permit hunting during the hunting seasons, particularly the deer rifle season during this first full week of November each year. If out, be aware and visible by wearing blaze orange clothes and hats. If you have a pack cover it in blaze orange. Ensure pets are kept on leash and are also wearing orange during the fall season for their safety," said the GSCA.
Be seen, be safe.
Photo: hunter-ed.com