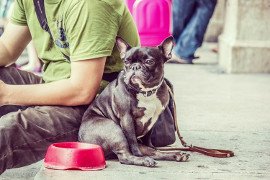 "The greatness of a community is most accurately measured by the compassionate actions of its members." – Coretta Scott King
Last week we had the pleasure of meeting Nelly Greb, president and chair of Meaford's Golden Town Outreach. Nellie is the perfect example of a passionate individual striving to make a difference in our community.
Since 1984, the Golden Town Outreach has been a volunteer-run organization, providing compassionate assistance to people in need in our community. Operating from the Meaford Bethany Church of the Nazarene, GTO provides emergency food, clothing, and shelter in a dignified environment; they never turn away someone in need.
I have lived in Meaford for less than three years, and there are many facets of Meaford I am still unfamiliar with. I was surprised to learn that Golden Town Outreach regularly services upwards of two hundred families residing mostly in and around Meaford's downtown core.
Nellie expressed to us the need for support for pet-owning clients, predominantly those with cats and dogs. For many struggling individuals using Golden Town Outreach's services, having a companion animal is their only lifeline that provides a benefit to their quality of life. Because the bond between pet and owner is so strong, it is not uncommon for a person in need to skip meals so their pets can eat instead. Nobody should have to decide whether they eat or their pets eat on any given day.
Currently, GTO receives some pet food donations; enough to feed their client's pets for a few days, however the demand for pet food is much greater than the supply. As of this month, Canadian Pet Connection has pledged to at least double current pet food contributions, and increase accordingly if demand grows. And it's not just dogs and cats that are in need; exotic small mammals like rabbits and guinea pigs are often overlooked when it comes to donations of food and supplies.
Being a family-owned and -operated business in Meaford, supporting our community is one of our core values. We live here, we work here, we are raising our family here. Canadian Pet Connection's new partnership with Golden Town Outreach is something we are very proud of, and we will continue to work with them to strengthen this relationship going forward.
It is estimated that over half of Golden Town Outreach's clients are pet owners, and we are calling out to the community to help those in need by participating in our upcoming Homes for the Holidays event.
We will be hosting a holiday pet food drive at Canadian Pet Connection (278 Cook Street - beside the Meaford Factory Outlet) on Saturday, November 30, from noon to 3 p.m.
In addition to the pet food drive, the Homes for the Holidays event will feature kitten adoptions, dog nail trims, pet photos with Santa, and much more!
For more information about this event, please e-mail info@canadianpetconnection.ca
Donations of pet food, human food, clothing, and other household supplies are always welcome at Golden Town Outreach. Donations can be dropped off at the Meaford Bethany Church of the Nazarene, 34 Trowbridge St. W., on Monday mornings between 9:30 and 11:30 a.m., or Thursday evenings from 5:30 to 7:30 p.m.
Brandon Forder, known as The Pet Expert, is vice-president of Canadian Pet Connection, an industry leader in healthy pet lifestyles. Brandon has more than twenty-five years of experience specializing in pet health, nutrition, and behaviour. He has written hundreds of informative pet-related articles for newspapers, magazines, radio, and the popular Ask the Pet Expert Blog. Brandon is proficient in pet problem solving, and enjoys teaching others about smart and responsible pet ownership. To learn more, visit www.CanadianPetConnection.ca.