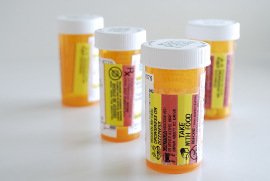 One hundred fifty people took advantage of the offer of free Attack tickets in exchange for the return of expired or unused medication.
Eight kilograms of expired and unused medications were returned, including a significant amount of opioids and controlled substances with a potential for misuse, including hydromorphone, percocet, oxycodone, and codeine.
Now in its third year, the Campaign to 'Attack' Medication Misuse offered a free voucher to an Owen Sound Attack hockey game in exchange for the return of unused medication dropped off at the Owen Sound IDA Pharmacy between October 5 and 11.
The campaign also prevented these drugs from ending up in landfills or being flushed down the toilet and ultimately ending up in our water system. Unused medication should always be returned to a pharmacy for proper disposal.
The campaign supports the proper disposal and storage of medication and reduces the amount of unused and expired medications, especially opioid pain relievers and other substances with the potential for misuse, in our community.
"Thanks to all who participated in this event as well as the Owen Sound Attack, Owen Sound Police Service, and the Owen Sound IDA Pharmacy for their support!" said organizers.