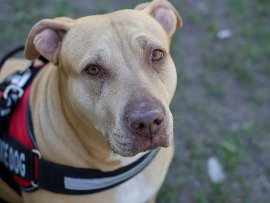 Dogs are remarkable animals, and are truly man's best friend.
Not only do dogs help us live healthier, happier lives, they also provide unequalled levels of specialized care. Whether it is their ability to detect seizures before they happen, sniff out cancers and other diseases, or help the visually impaired navigate a busy city, there is no doubt that dogs provide humans with the capacity to have a better quality of life.
Over the last few years in North America, there has been an alarming rise in the number of spurious service dogs making their way into restaurants, stores, schools, airports, and more. Many are calling this an epidemic of individuals abusing the system by neglecting definitions and regulations for service dog certification and status.
It only takes a simple Google search to find headlines about questionable service dogs acting out, and how quickly this issue is getting out of control:
"Woman bitten by emotional support dog in Orlando airport"
"Alabama man mauled by service dog on flight to San Diego"
"Seeing eye dog mauled by service dog pitbull on Sacramento light rail"
"Service dog breaks loose during production of Cats, chases actors"
Service dogs are defined as, "any dog trained to help a person who has a disability, such as visual impairment, hearing impairment, mental disorder (like post-traumatic stress disorder), seizures, mobility impairment, and diabetes".
The service dog designation is something of distinction. When one thinks about what a service dog is, they usually imagine a well-trained working companion, completely honed in on their caretaker's individual needs. To produce a finely-tuned service dog, there can be a considerable amount of time, energy, and money required. But contrary to popular belief, there are no legal requirements for service dogs to be trained or certified by a recognized disability-related organization in order to have public access rights. Under the Canadian Human Rights Code, anyone has the right to train his or her own service dog as it best suits their needs. There are no restrictions on the size, breed, or age for a service dog. There are only two requirements for service dogs: the owner must have a disability, and the dog is trained to assist their owner.
While many people with disabilities take it upon themselves to train their own service dog, there are several widely recognized organizations specializing in high-quality service dogs. Many professionally-trained service dogs undergo as much as two to three years of immersive training. During this time, dogs are taught a variety of essential skills to assist individuals with life-altering disabilities. Basic training skills include controlling biting, barking, reactions to animals and people, and other stimuli in their environment. In many cases, these behaviours alone can help identify an improperly trained service dog.
One of the most recognized service dog providers in Canada is National Service Dogs (NSD) For the last twenty years in Canada, National Service Dogs has trained dogs to assist children with autism, and first responders and veterans with post-traumatic stress disorder (PTSD). Every dog under National Service Dogs' care is trained to specifications set by the Assistance Dogs International organization.
All dogs in the NSD program must master a particular set of skills to help ease their handler's disability. Skill sets vary based on the client's needs, however, all service dogs must be able to respond to prompts that keep them close so they can apply pressure with their bodies to help keep their clients calm. This behaviour is an essential function, as service dogs need to 'check-in' with their handler. This allows the dog to get a better understanding of their handler's current condition. In order to prove their merit, these service dogs must undergo a minimum two years of service training before they are placed with their forever person.
In order to be eligible for a service dog from from a recognized organization like National Service Dogs, an individual must first fill out an application, followed by several interviews. After a wait list of a couple of years, before an approved individual can receive a service dog there is a full week of hands-on training with the dog, followed by in-home training to ensure there will be no safety or comfort issues once handler and dog are out in public on their own.
According to the law, there is no legal difference between a service dog that has been trained by a professional organization and a service dog that has been trained by an individual. This is where much of the confusion surrounding service dogs legitimacy lies. Not all service dogs are professionally trained, highly-focused helpers. All dogs - even service dogs - are trained to different degrees; some function at higher levels than others.
This is a major reason why many individuals and businesses have difficulty accurately identifying service dogs; if a service dog dog isn't one hundred percent attentive to their handler's needs, then it can't be a real service dog, right? Wrong. Dogs are animals, and can be unpredictable in certain situations, no matter how much training they receive. It is the inconsistent behaviour of service dogs that creates uncertainty surrounding their legitimacy. Owners are responsible for their service dog in all environments and situations, and must ensure they behave in a fitting manner at all times.
Due to the number of behaviour-related incidents regarding service dogs, many businesses are either allowing all service animals on their premises for fear of social media backlash, or are outright denying entrance of all animals, even if it is a human rights violation to do so.
The laws surrounding service dogs are somewhat bewildering, and depending on the situation, it is difficult to know what the rights of individuals and businesses are. Under the Ontario Human Rights Code, service animals do not need to have official certificates or identity cards to have public access rights. According to the Ontario Restaurant Hotel & Motel Association (ORHMA), b
usinesses are permitted to ask to see service dog documentation from a regulated health professional, or an identification card from the Ontario Ministry of the Attorney General. Businesses can legally deny entry if the customer cannot provide documentation to prove they need the animal for their disability, or if the animal has no identifying features (wearing a special vest or harness) indicating it is a justifiable service dog.
What's really important to take from all of this is there needs to be better means of educating the public about service dogs, and emphasizing the handler's responsibility for their service dog's behaviour in public places. Barking, urinating, jumping, and other unwanted behaviours make it difficult for businesses and public places to welcome service dogs with open arms.
Brandon Forder, known as The Pet Expert, is vice-president of Canadian Pet Connection, an industry leader in healthy pet lifestyles. Brandon has more than twenty-five years of experience specializing in pet health, nutrition, and behaviour. He has written hundreds of informative pet-related articles for newspapers, magazines, radio, and the popular Ask the Pet Expert Blog. Brandon is proficient in pet problem solving, and enjoys teaching others about smart and responsible pet ownership. To learn more, visit www.CanadianPetConnection.ca.