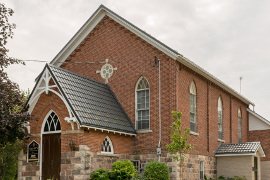 The care and attention that has gone into maintaining the 136-year old structure that houses the Trinity United Church in Annan stands as both a testimony to the devotion of its congregation and as a tribute to the pioneers, church leaders, and ministers who guided the congregation through changing times.
The building was completed in 1883 to replace the original church built in 1855. Prior to 1855, the congregation met in homes, barns, and schools. Historical records suggest that the congregation was Presbyterian, primarily of Scottish descent. The Presbyterian congregation in Annan dates back 170 years to 1849 when what was known as the Lake Shore Line congregation left the Rocky Saugeen congregation and became part of the Sydenham congregation. In 1877, Annan joined with a Presbyterian congregation in Leith to force one pastoral charge. In 1906, the two congregations joined the Presbyterian Church of Canada. In 1924, four congregations in the area - Daywood, Johnstone, Annan, and Leith - joined the newly formed United Church of Canada.
The Daywood church closed in 1937, Johnstone and Leith churches in 1969.
Today Trinity United Church Annan is home to both an active congregation - many of whom can trace their ancestry back to the original Scottish settlers of Grey Bruce - and home to archival records and artifacts, a stained glass window dedicated to Gideon and Margaret Harkness, who housed the first church service in their barn in 1852, a pipe organ built in 1896 and recognized by the Royal College of Organists as a historical instrument, regular Sunday services, a children's church program, fellowship, and an active United Church Women (UCW) group.
Trinity United Church Annan will be celebrating its 170th anniversary this October. Celebrations will include the World Communion and a tree dedication on October 6; a celebration of the church's longest living member, Alberta Lemon, and five new members, on October 13; the dedication of the pipe organ as a historical instrument, on October 20; and guest minister Rev. David Jagger, Regional Stewardship and Gift Officer of the United Church of Canada, on October 27. Historical archived items will be on display during the Sunday celebrations. Everyone is welcome.