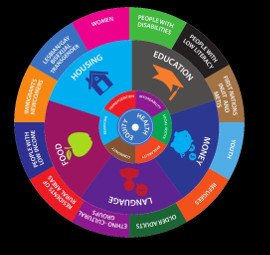 A new interactive Health Equity Training Tool and supporting videos will help service providers ensure the people they work with have the opportunities to move closer to achieving health equity. Health equity means that everyone has a fair chance to be as healthy as possible and receive quality care no matter where they live, what they have, or who they are.
The new training tool is designed to assist service providers in steering people to the supports they need to have a greater influence over their own health. The health equity tool and training videos increase awareness about:
Factors that impact health for individuals, communities, and populations

Health equity concepts and equity-focused decision making

How to support health equity at an individual and systems level
Developed by the Moving Forward on Health Equity Action Group of the Bruce Grey Poverty Task Force, the tool and training videos can be used for staff orientation, professional development, program planning, and individual care planning.
The Grey Bruce Medical Officer of Health, Dr. Ian Arra, encourages service providers to use the health equity tool as a way to consider the many factors which can influence an individual's health, such as income, housing, food, language, and education.
For more information, please visit the Grey Bruce Health Unit Health Equity website. For more information about the Moving Health Equity Forward Action Group, please visit the Bruce Grey Poverty Task Force website.