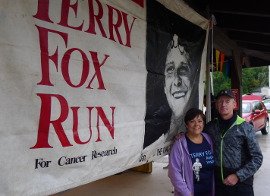 In spite of the rainy weather on Sunday, September 15, organizers of Meaford's annual Terry Fox Run to raise money for cancer research were thrilled with the turnout for this year's event.
Event organizers, Sandy and Andy Harrington told The Independent that 82 participants raised more than $9,000 for the cause. While the number of participants was down from the 209 who participated last year, given the weather, and that it was their first year of organizing the event, the Harringtons were pleased.
"I've been involved with the Terry Fox Run since 1980," Andy Harrington told The Independent. "We've been supportive of the Terry Fox Foundation and their work to cure cancer."
The Harringtons said that they got involved in organizing the event after the previous organizer moved away and the community risked losing the event all together.
"So with my interest in running, and Sandy's interest in healthcare, we felt this was the right thing to do," Harrington said.
The Harringtons learned quickly that organizing an event such as the Terry Fox Run is a significant undertaking.
"It's been hectic," Harrington said with a laugh. He said that organizing this year's run coincided with his retirement, and as a result the Harringtons didn't have as much time to dedicate to the event as they would have liked. "So it has been a mad rush the last two weeks, but I think we pulled something off that will support the community and will help the Terry Fox Foundation maintain a presence in Meaford."
The Terry Fox Foundation has raised more than half a billion dollars over its history, the bulk of which comes from the more than 9,000 Terry Fox runs that are held each year across Canada and around the world.
The Terry Fox Foundation is independent from any other cancer fundraising group. The organization does not accept any corporate sponsorship, making it truly independent.