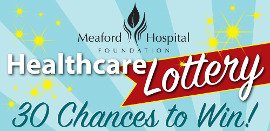 A local lottery in support of the Meaford Hospital Foundation has launched in the hopes of raising funds for the capital equipment needs of Meaford Hospital.
Executive Director for the Meaford Hospital Foundation (MHF) Jennifer Wright said, "Tickets are on sale now for the new Meaford Hospital Foundation Healthcare Lottery, and will be on sale until the final draw on December 11, when the grand prize winners will be drawn."
"We will be having an early bird draw on October 2 for $1,000 cash with 5 draws for 25 individually awarded prizes occurring bi-weekly starting October 9, with the final grand prizes being awarded on December 11."
The first set of draws that occur on October 9 are: Toronto Maple Leafs Nylander Jersey, $25 gift certificate to Thornbury Pharmasave, $100 gift certificate to Squire Johns, four wheel alignment and tire balance at Bayside Chrysler valued at $250, and a $25 gift card at Rexall Pharmacy in Meaford.
The second set of draws on October 16 includes: $100 family camping package at Memorial Park in Meaford, family pass for four to Georgian Peaks Ski Club valued at $320, $50 gift certificate to Canadian Pet Connection, $250 cash donated by The Ear Clinic (Brenda Tullio), and a $25 gift card at Rexall Pharmacy.
The third set of draws occurs on October 30 and is for: $500 VIA Rail gift voucher,
Flowers for a Year from Simply Unique valued at $400, $25 gift card at Rexall Pharmacy,
25% off any photography collection and $100 print credit with Krystal Klear Photography, and a $25 gift certificate to Thornbury Pharmasave.
The fourth set of draws on Wednesday, November 13 is for: $100 gift certificate to Scandinave Spa in Collingwood, $25 gift certificate to Thornbury Pharmasave, a True North Space Heater from Caframo valued at $100, 5 rounds of golf (9 holes) at Meaford Golf Club valued at $160, and a $25 gift card from Rexall Pharmacy.
The fifth set of draws is on Wednesday, November 27 and includes: one-night stay in a Cherry Suite for two at The Falls Inn and Spa valued at $230, $250 gift certificate at Cliff Richardson's Boats Ltd., $25 gift certificate to Thornbury Pharmasave, $500 cash donated by Blue Mountain Resort, and a $25 Rexall Pharmacy gift card.
The final draw on December 11 will award four lucky winners with one of the four prizes. The prizes are: $1,500 gift certificate for Gilles Hache Catering and Chef at Home, Grey Best Home Furnishings Power Recliner from Macdonalds Furniture donated by Bill's Valu-mart valued at $1,300, $1,000 travel voucher with DS Travel – Dave Edwards, and two wills and four powers of attorney with Brian Renken Professional Corp valued $804.
All tickets will be drawn LIVE on the Meaford Hospital Foundation Facebook page on
draw dates at 12 noon on each of the draw dates. Wright stated, "If a ticket is pulled it will automatically go back into the draw for another chance to win." Rules and regulations are posted at www.mhfoundation.ca
Tickets will be available at locations in Meaford and Thornbury, at Canadian Pet Connection, Thornbury Pharmasave, Simply Unique Flowers and Gifts, Meaford Hospital Foundation, and Rexall Pharmacy.
Tickets are $20 each or 6 for $100 with 3,500 tickets printed. The Meaford Hospital Foundation hopes the lottery will raise $50,000 for Hospital capital equipment purchases.