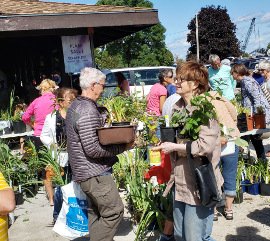 It was a sunny afternoon at the Farmer's Market on Friday, August 30, as over 500 plants were rolled in. Linda Squires the brainchild of this fundraiser has worked tirelessly over spring and summer to make this sale happen.
The Friends of the Meaford Library collected nearly $2,200 at the farmers market and an additional $240 at the Net Shed on Saturday.
A hearty thank you goes out to Linda and her team.
Many people also ordered their bulbs for pick-up at the Farmer's Market on October 4. There are small and large daffodil and red tulip bulbs for sale. You can still get them on October 4 even if you have not previously ordered.