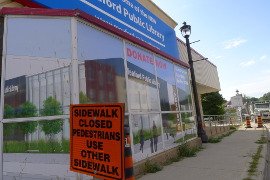 The parking lot and sidewalk surrounding 11 Sykes Street North will be closed beginning on Friday, August 9, as construction is set to begin on the property for the new Meaford Public Library.
At their meeting on July 22, 2019 Meaford Council awarded the tender for the New Library project to Van Horne Construction Limited. Construction will begin the week of August 12th, 2019 and is expected to continue until May of 2020.
"For more information on this project, please visit www.meaford.ca/newlibrary. Thank you for your patience as we complete this work," said the municipality.