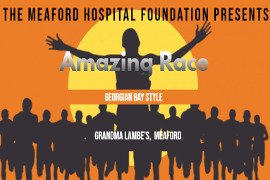 On Saturday, September 14, the Meaford Hospital Foundation will embark on a new community event to raise funds.
Participants in The Amazing Race will experience a day of clue-based adventures, to complete several physical and mental challenges designed to test racers' strengths in many areas.
The teams will experience the best of our area's landscapes and communities, with their first challenge starting at Grandma Lambe's in Meaford.
The event is accepting 40 teams of 4-5 individuals, which can consist of anyone ages 10+ (children under the age of 18 must have parent/guardian consent to participate), but one person on each team must have a valid driver's license and reliable vehicle.
All funds raised from the event will support the purchase of capital equipment for Meaford Hospital with a goal of $60,000. Unlike other races with hundreds of racers, the race committee will only be accepting 40 teams. This smaller number heightens the experience of the race. The event will feature brain busters, challenges, and anything in between, with an opportunity to purchase a Mulligan for the challenge you just can't figure out.
The cost is $300 per team or $65 per person, with a team pledge to raise $1,000 before race day. For teams that aren't able to complete the fundraising goal they will be given a Speedbump challenge sometime during the day's event.
To register for The Amazing Race ~ Georgian Bay Style go to www.mhfoundation.ca.