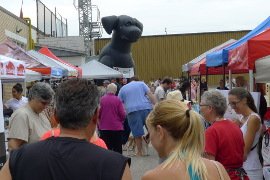 Local pet supply outlet Canadian Pet Connection held their second annual Pet Expo on Saturday July 27 outside their store beside the Meaford Factory Outlet. With 50 vendors and exhibitors, this year's Expo was bigger and better than a year ago.
"We've got almost 50 vendors and exhibitors this year which is a big step up from the 16 we had last year," Canadian Pet Connection's Angela Forder, who organized the Pet Expo, told The Independent. "It's bringing together all of the local community groups that are pet-centric, and putting them all in one spot for the day."
Forder said that in addition to groomers, pet supply companies, and other exhibitors, this year's event included face painting and colouring contests for the kids, and a lure course for dogs to have some fun of their own.
Organizers of the event were hoping to attract even more visitors than the estimated 1,500 who attended the event last year.
"We're just hoping it doesn't rain," Forder told The Independent. "Last year it rained, and it was windy, but we still had about 1,500 people come through, so we're hoping this year that the weather isn't too big of a deterrent for people and that we still get a lot of people and pets out."
While the sky looked threatening much of the day, save for a brief downpour in the late morning, the event remained otherwise dry.
Canadian Pet Connection was founded by Lorne Forder in 1993. The company, which began with a single retail location, has specialized in healthy foods and supplies for pets. The company grew to include a second retail location and a Canada-wide distribution and online sales operation. Two years ago the company moved its online sales operation to Meaford, where they also opened a retail outlet open to the public.