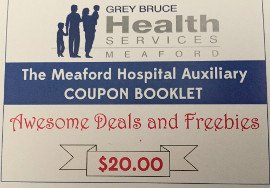 The Meaford Hospital Auxiliary has published another coupon booklet, due to the successful run of its last publication in 2016. The booklet offers a range of coupons and freebies which include the areas of Thornbury, Meaford, and as far west as Owen Sound.
This booklet cannot only be enjoyed by the purchaser, but also makes a great birthday gift, hostess gift, or for those who want something different for that hard-to-buy for Christmas gift. It offers fantastic deals on dining out, pharmacy products, footwear purchases, and numerous 'free' products. The best part of the booklet is when you are enjoying the coupons, our Meaford Hospital is benefiting from the profit of the sales.
The booklets, which sell for $20, contain over 40 coupons. To date sales have been brisk as many take advantage of the numerous deals.
The coupon booklets are available at the Meaford Hospital gift shop, from committee members Joyce Knight 538-5414, Wayne Kipp 538-1471, Marjorie Stringer 538-4927, and Norma White 538-2178. Also check out the booklet at Bill's Valu-Mart where auxiliary volunteers will be selling the booklets.