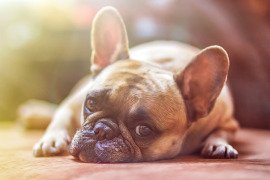 Three months ago, we published an article explaining what Dilated Cardiomyopathy is, explaining the concerns surrounding a possible link between this disease and ingredients in grain-free pet foods. This past week, the FDA released a list of foods that could possibly be linked to the increase in cases of this common pet disease, a move that many are calling premature.
The FDA's investigation into grain-free diets for dogs is certainly causing a great deal of concern among pet owners in North America. We are fielding calls and questions on a daily basis from concerned pet owners looking for guidance on the subject. Since its beginning, we have been following this investigation very closely.
In July 2018, the FDA released an alert to the public about the possible connection between dilated cardiomyopathy (DCM) and grain-free pet foods. This release was made public after a significant increase in the number of reported dogs diagnosed with DCM between January 1, 2014 and April 30, 2019. Over that period of time, the FDA received 524 reported cases of pets with DCM.
Dilated cardiomyopathy is a potentially fatal form of heart disease, causing the upper and lower chambers of the heart to enlarge, making the heart muscles weaker. DCM often leads to many serious health problems, including fatigue, difficulty breathing, and congestive heart failure. There are many breeds that may have a possible genetic predisposition to DCM, primarily large breeds such as Great Danes, Doberman Pinschers, and Boxers.
Up to this point, there has been no proven link between grain-free diets and dilated cardiomyopathy (DCM) in dogs. The investigation is leading in the direction to further investigate whether peas and lentils are the possible problem, not simply grain-free foods. Many grain-free diets contain high levels of lentils and peas, and it is assumed that these specific ingredients may compromise a dog's ability to sustain sufficient levels of taurine, an amino acid essential for heart and brain function. Dogs with low taurine are at a significantly greater risk for developing dilated cardiomyopathy (DCM).
This past July, the following alert was issued by the FDA's Center for Veterinary Medicine (CVM):
"The U.S. Food and Drug Administration is alerting pet owners and veterinary professionals about reports of canine dilated cardiomyopathy (DCM) in dogs eating certain pet foods containing peas, lentils, other legume seeds or potatoes as main ingredients. These reports are unusual because DCM is occurring in breeds not typically genetically prone to the disease."
As of right now, the truth is, nobody - including the FDA - knows what is causing the rise in DCM cases reported to the FDA. Correlation is not causation, which is why this study is so important; we need to find the link.
On June 27, 2019, the FDA released a list of sixteen pet food brands most frequently associated with heart disease in dogs, yet they admit, "the FDA doesn't yet know how certain diets may be associated with DCM in some dogs".
This is the primary reason why pet owners are so frightened and confused; they are not sure what to do and it is making their heads spin. Now, droves of pet owners are ditching grain-free diets for grain-friendly alternatives. As more information is released by the FDA, hopefully we will develop a better understanding of the connection between grain-free dog foods and heart disease.
If you are concerned that a grain-free diet, or a diet containing peas or lentils is not suitable for your dog, there are plenty of alternatives. Dog owners have the luxury of choosing among several high-quality Canadian-made pet foods that are not grain-free, and do not contain peas or lentils. If you would like to further discuss your options with regards to grain-friendly dog foods with no lentils or peas, we are happy and eager to help.
Remember, we are an independent company specializing in pet nutrition for almost thirty years. We do not have any biases towards recommending one type of food over another. We help our clients find the right products based on their individual needs. We are not pro grain-free, nor are we anti grain-free. We are pro quality, transparency, and accountability.
We are at your service if you would like to speak about your options.
Brandon Forder – also known as The Pet Expert - is vice-president of Canadian Pet Connection, a family-owned and -operated business located in Meaford. He has over twenty-five years of experience specializing in pet nutrition, behaviour, and healthy pet lifestyles. Canadian Pet Connection is an industry leader committed to providing their clients with the highest levels of personal, attentive service. Learn more at www.CanadianPetConnection.ca.