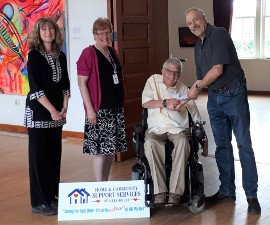 Home and Community Support Services of Grey-Bruce gratefully accepted a donation from the Rotary Club of Meaford recently. The donation will be used to reduce the price of each meal delivered to Meals on Wheels recipients of this community between July 1, 2019 and March 31, 2020.
Executive Director, Andy Underwood commented that food affordability is a big issue for many seniors in Grey-Bruce and financial support from community minded groups like the Rotarians goes a long way towards maintaining the health and well-being of Meals on Wheels recipients.
Anyone wishing to financially support or volunteer for a Meals on Wheels program in their individual communities are encouraged to call 519 – 372 – 2091.