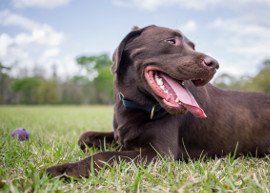 As we continue to head full-steam towards summer, we all, at times, need to take special precautions to limit our exposure to excessive heat. This is especially true for dog owners, as the sad reality is that too many dogs suffer the effects of overheating each summer. This is largely because their owners failed to recognize the signs and to take early and preventative action.
Heat exhaustion can lead to serious, and potentially fatal conditions, like heat stroke. If dealt with early enough, heat exhaustion can be treated, and a dog may very well make a full recovery with no lasting ill-effects. However, the higher a dog's body temperature, the greater the risk for life-altering or fatal consequences.
A dog's natural cooling mechanisms are relatively inefficient. Unlike humans, dogs do not have sweat glands throughout their body. Dogs do sweat through small glands on their feet, however, this does little to regulate their temperature. Instead, a dog's primary function for cooling is panting; rapid breathing moves air over the tongue to cool blood as it recirculates back to the body. There is only so much blood the tongue can hold, limiting the body's capacity to regulate temperature. Dogs also have fur coats which, in certain breeds, makes the task of staying cool that much more precarious.
Overheating is a real problem for many dogs during the summer months, and it is not to be taken lightly. Knowing the signs of overheating is the first step in heat exhaustion prevention.
What are heat exhaustion and heat stroke?
A normal, healthy body temperature for a dog is around 102.5°F (39°C). Heat exhaustion in dogs develops when the body temperature elevates from 103°F to 106°F. Any temperature higher than that, and you are in heat stroke territory, which is absolutely life threatening. When temperatures reach heat stroke levels, vital organs, like the heart and brain, begin to shut down.
It is easy to identify signs of overheating in dogs; it begins with excessive panting. Excessive panting is the first warning sign that early and immediate action must be taken. It is especially true if the dog has been given a break from activity, yet continues to pant intensely. This is a glaring indication that a dog is having difficulty regulating their normal body temperature.
Signs of heat exhaustion in dogs include profuse drooling, confusion, loss of balance and coordination, abnormal colour changes in the tongue (bright red or blue), convulsions, vomiting, diarrhea, and loss of consciousness.
Certain dogs may be more susceptible to overheating than others. Dogs that are very young, elderly, overweight, have thick coats, and dogs on medications are considered at high risk for overheating. Moreover, flat-faced and short-nosed, or brachycephalic breeds, such as Bulldogs, Boxers, Shih Tzus, and Pugs, are among the most at risk for overheating, as their physical makeup compromises their ability to breathe, especially when under heat stress.
It is important to be mindful of overheating with high energy dogs, too. Working and hunting breeds, such as Labradors, German Shepherds, and Border Collies, tend to push themselves pretty hard, and may not let up while playing fetch, or running at the leash-free park. Oftentimes, these dogs will be so focused on their activities, they do not realize their bodies cannot cool down quickly enough to match the intensity of their actions.
How to care for an overheated dog
When it comes to treating an overheated dog, there are two levels of treatment: immediate care, and veterinary care.
Immediate care are the actions you can take to treat an overheated dog yourself. Firstly, it is critical to remove the dog from the hot environment right away. To begin the cooling process, you will need cold water to bring the core temperature down to normal levels. Find any source of cold water you can; a hose, a pool, bathtub, or shower. Cover the dog's body in cold water as best you can without submerging the head. Continue to soak the dog in cold water. It is important to keep the dog's head elevated to prevent aspiration pneumonia. Be sure to provide plenty of cool, fresh water, and let him drink as much as he wants without forcing him. During this time, you should call your nearest veterinarian or emergency animal clinic to inform them you will be bringing in your dog right away. When the clinic knows to expect you, they will be prepared to administer treatment right away upon your arrival, and their staff will provide instructions for care over the phone as you make your way over.
Veterinary care generally consists of replacing lost fluids, often with the help of IV fluid therapy. Your veterinarian will also be able to determine whether or not the situation has led to any secondary health problems, such as damage to the brain, heart, and kidneys.
In order to prevent overheating in dogs (and to a greater extent, heat exhaustion and heat stroke), it all starts with being preventative. Proper planning, such as the time of day you exercise your dog, will help considerably. On hot days, it is best to exercise your dog in the early mornings and evenings, when temperatures are at their coolest. Provide easy access to shade, and have fresh, cool water readily available. And, of course, never leave a dog unattended in a vehicle for any length of time, even with the windows down. Even on not-so-hot days, a vehicle can reach life-threatening temperatures in mere minutes.
Knowing your dog's limits, based on breed, age, and general health, and knowing when to give breaks from activity are essential in overheating prevention. By having this fundamental knowledge, you are taking the right steps as a responsible pet parent. So, get out there and enjoy your time with your best friend.
Here's to a safe summer full of adventures!
Brandon Forder – also known as The Pet Expert - is vice-president of Canadian Pet Connection, a family-owned and -operated business located in Meaford. He has over twenty years' experience specializing in pet nutrition, behaviour, and lifestyle. Canadian Pet Connection is an industry leader committed to providing their clients with the highest levels of personal, attentive service. Learn more at www.CanadianPetConnection.ca.