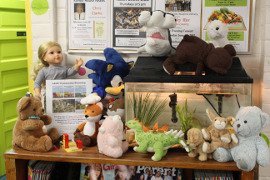 Ever wondered what stuffed animals might do overnight at the library? Come to a special bedtime Story Time for children and their stuffed animal friends and you can find out.
The group will enjoy stories, songs, and a craft before we tuck the stuffed animals in for a sleepover. The next day when the children pick up their stuffed animal friend, they can see the adventures that they had during their night at the library. You might be surprised what they get up to!
The Stuffed Animal Story Time and Sleepover will be held on Thursday, June 27, at 6 p.m. Bring your favourite stuffed animal along and then the next day after 2 p.m., come and pick up your stuffed animal friend. This event is free of charge and no registration is required.
For more information on this event or any others, please contact the Junior Library at 519-538-1060 ext. 1125, email: lpierce@meaford.ca or go to the library website: www.meafordlibrary.on.ca. We have a great lineup of summer programs for children and youth. See you soon!