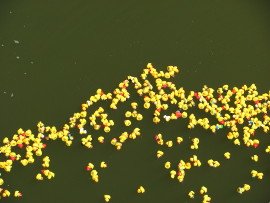 On Saturday, June 8, the Meaford Kinsmen held their first annual Duck Race at Beautiful Joe Park. Along with the duck race, there was live music at the pavilion, Rock Art for the kids, and an exhibitor on the other side of the river.
A good crowd gathered to watch the more than 300 ducks make their ways downstream on the Bighead River at 12 noon. When all was said and done there were 15 prizes awarded.
The ducks had a great race under the Bakeshop Bridge and down to the back corner of Beautiful Joe Park. Several ducks had so much fun they just kept going down the river and we expect to hear that they are resting along the shoreline. If you happen to come across any of these cute little swimmers with a number on their bottom, please contact a Kinsman and they will arrange to get them back to their families.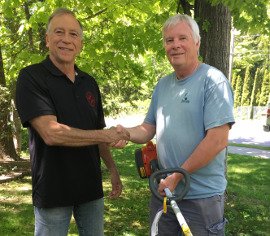 The first place duck belonged to Michael Flaharty and he selected a gas powered trimmer that was donated by Earth Power Tractors and Equipment.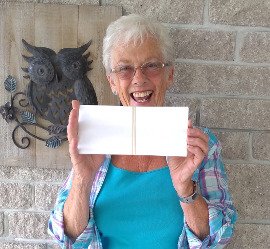 Paula Stanley's duck finished second and she chose the gift certificate from Knight's Home Building Centre valued at $1,000.
The third place duck was held by Sawyer Ratcliffe and it was a $250 gift certificate from MacDonalds Furniture. John Howard used his fourth place finish to select two tickets to a performance of the Devin Cuddy Band at Meaford Hall, donated by Meaford Hall. With Andria Flaharty's 5th place rank, she chose a gift basket from Canadian Pet Connection that was listed at approximately $50 worth of goods.
The rest of the prizes are still awaiting selection because the 6th place finisher has not been reached at the time of this writing.
Sixth through 15th place winners are as follows: Aurora Clarence, Greg Bunn, Garry Minielly, Shirley Keaveney, Duncan Cobb, William J. Kelly, Wayne Button, Ann Kell, Melissa Fisher, and Steve Fisher.