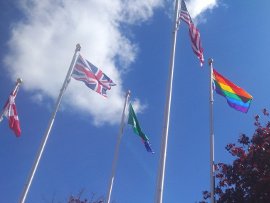 The Municipality of Meaford has raised the Pride flag for the second time at 10:30 a.m. on June 3, 2019 at the Market Square flag poles.
The Grey Bruce Pride committee asked municipalities in Grey and Bruce counties to fly the LGBTQ rainbow Pride flag in celebration of Pride Month in June. The Pride Flag will be displayed on one of the flagpoles in Meaford's downtown core for a period of one week.
Flying the Canadian Pride Flag demonstrates that the Municipality of Meaford supports the rights of LGBTQ members of our community and values inclusion, tolerance, and love.
"The Municipality of Meaford is known for being a friendly and welcoming community," said Mayor Barb Clumpus. "The pride flag is a great symbol of inclusivity and respect for all."
For more information on Pride activities and events in Grey Bruce visit https://www.facebook.com/GreyBrucePride/.