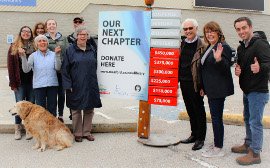 A group of library supporters and champions recently gathered at the new Library Fundraising Thermometer to celebrate an exciting event – the fundraising campaign for the new library building has reached more than $450,000. This means that the Fundraising Thermometer has another 'book' revealed to indicate the new milestone.
Peter Bantock, chair of the Fundraising Committee, commented on the occasion.
"We are pleased to have reached another threshold in our fundraising target of $750,000. We look forward to continued support from the community for our new library campaign," said Bantock.
The recent fundraising achievement comes thanks in part to contributions from the Business Challenge and also to several memorial donations.
Donations to the campaign can be made at: www.meaford.ca/newlibrary
Photo: Library champions, including canine friend Darla, celebrate the new library campaign reaching the milestone of $450,000 in front of the Fundraising Thermometer.