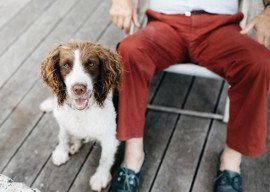 This is not a pleasant situation to think about, but it is a reality all pet owners should plan for. We have life insurance policies to ensure our families are taken care of, and we make wills to sort out our estates, but many pet owners do not consider making the same arrangements for long-term pet care.
Without a legitimate succession plan for your pets, there is the chance your pet could wind up in the hands of people you do not know, like in a shelter, or rescue. In some circumstances, pets coming from loving families end up homeless because there is simply nobody to provide longstanding care after the untimely death of their owner. Even if a friend or family member were to take your pets in the event of your death, there are no certainties they will continue to receive the same quality of care you have so lovingly provided.
We have all heard stories of wealthy celebrities leaving outlandish sums of money to their pets. Oprah, for example, has a $30-million trust set up for her dogs. Most famously, Leona Helmsley made worldwide headlines after her death in 2007 when she left $12 million to her Maltese dog, Trouble. At the time, Trouble was deemed the richest dog in the world. While these sums of money may seem ridiculous, it reflects the value of a pet's love and companionship. Now, most of us don't have millions to allocate to our pets in the event of our death, but putting the right pieces in place to ensure our pets are well cared for after our passing for is a very important consideration.
In the eyes of the Canadian government, pets are considered property. Because of this, Canadians cannot legally gift money or property to pets. There are, however, other ways to ensure your pets are properly cared for after your passing.
One viable option is to incorporate a direction in your Power of Attorney. This will give consent to your attorney to make payments to your pet's new caregiver to pay for expenses like veterinary visits, food, supplies, and whatever else is needed to meet the needs of your beloved pet.
Another option for pet succession planning is to include a gift in your will to your pet's new caregiver. With the proper clause inserted in your will, it is considered a formal direction to both future caregivers and executors of your will. This gift should include specific wording to explain your wishes for the continuous care of your pets. The gift will be designated to the new caregiver with instructions on how the funds are to be used. With that said, this cannot be legally enforced, and there is no guarantee the funds will be used to the full extent of your wishes.
Your third option would be creating a pet trust. You can arrange a formal trust to designate your choice of caregiver, how the money will be used, and the type of care you wish for your pets over their lifetime.
It can be a significant burden to care for someone else's pets. The time, energy, and money required to provide continuous care can be substantial. Upon the death of a loved one, a friend or relative may take on the responsibility of caring for their pets, however after time, the burden may be too great. This is one of the main reasons why many pets in this situation end up in rescues and shelters.
The main takeaway is this: no matter which avenue you choose for pet succession planning, your designated future caregiver must be someone you really trust. Be sure to speak with them about your wishes, and make sure they are in agreement with your terms and conditions. With a truly trustworthy person committed to caring for your pets after your death, sometimes a simple handshake is all it takes.
Brandon Forder – also known as The Pet Expert - is vice-president of Canadian Pet Connection, a family-owned and -operated business located in Meaford. He has over twenty years experience specializing in pet nutrition, behaviour, and lifestyle. Canadian Pet Connection is an industry leader committed to providing their clients with the highest levels of personal, attentive service. Learn more at www.CanadianPetConnection.ca.