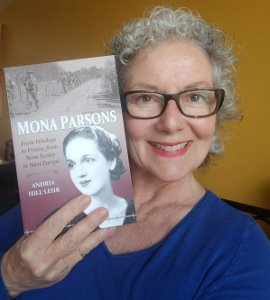 The Meaford Public Library will host its final Koffee House Reads for 2019 on Thursday May 30 at Meaford Hall. The guest speaker will be Andria Hill-Lehr who will discuss her book, Mona Parsons – From Privilege to Prison from Nova Scotia to Nazi Europe. Tickets are $10/person and include a coffee and dessert.
Hill-Lehr's book explores the life of Canadian Mona Parsons, the only female Canadian civilian to be imprisoned by the Nazis in Occupied Holland. Raised in rural Nova Scotia and trained as an actor and a nurse, Parsons became involved in the nascent Dutch resistance in World War II, culminating in her imprisonment.
Hill-Lehr is a writer and therapist who lives in Nova Scotia. She has written for Canada's History magazine, Maclean's, The Chronicle Herald, and Saltscapes, and is the author of two books: Mona Parsons; and A Mother's Road to Kandahar.
Andria Hill-Lehr is a powerful speaker and the event promises to be very enlightening. Purchase your tickets for this Koffee House Reads ticket at the Library today!
For more information, call 519-538-1060 ext. 1123 or email libraryinfo@meaford.ca.
Photo: Koffee House Reads author Andria Hill-Lehr with her book Mona Parsons.