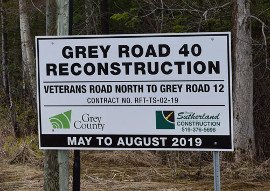 The 2019 construction season is here, and Grey County will soon begin road improvement projects across the region. Planned projects are outlined below and a full interactive map can be found online at www.roads.grey.ca.
Some projects will require road closures or traffic delays. Be sure to plan your route in advance and give yourself extra time to safely reach your destination. Always pay attention to posted signage and be extra cautious in areas of active construction when workers are present.
For questions about the 2019 planned road construction projects, contact transportation@grey.ca (link sends e-mail) or call 519-376-7337.
2019 Projects
All project time-lines are best estimates only. Timing and duration could change depending on weather conditions and other factors.
Grey Road 40: May 6 to August 19
Pulverize and pave 15.5 km from Veterans Road North to Grey Road 12. The project includes 15 culvert replacements, two major reconstruction areas, guiderails and 1.25 metre paved shoulders. Total budget: $5.4 million.
Road closures are expected on this project. A signed detour route will be posted.
Grey Road 13: July 29 to August 30
Pulverize and pave 3.5 km from Grey Road 4 to the north limits of Eugenia. The project includes one culvert replacement, guiderail replacements and 1.25 metre paved shoulders in the rural portion. Total budget: $1.2 million.
Holstein Bridge: July 8 to October 18
Full replacement of the bridge in Holstein. The project includes 0.5 metre paved shoulders and enhanced railings to keep the heritage appeal. Total budget: $2.1 million.
The bridge will be closed during construction with a detour posted on Southgate Sideroad 41. The dam will be used as a pedestrian crossing.
Grey Road 9 (Main Street West Dundalk): May 28 to November 15
This project is in partnership with the Township of Southgate. Work includes resurfacing, intersection improvements, 1.25 metre paved shoulders, stormwater management, curbs and sidewalks and more. County budget: $3.9 million.
Grey Road 4 (Durham): May 14 to August 16
This project is in partnership with West Grey. Work includes resurfacing from Chester Street to Garafraxa Street, storm sewers, curbs, sidewalks and more. County budget: $1 million.
Grey Road 4 (Hanover) New Traffic Signal: Completed by September 2019
A new traffic signal will be installed in Hanover at the intersection of Grey Road 4 and 18th Avenue, near the new high school, including crosswalk signals. Total budget: $350,000.
Grey Road 5 (Owen Sound) Intersection Improvements: Late Summer/Early Fall
Improvements to the intersection at 16th Street East and 9th Avenue East in Owen Sound. A new left-hand turning lane will be added for southbound traffic.