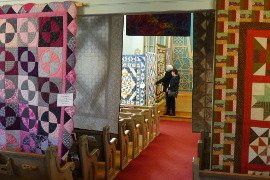 The 28th annual United Church Women's Quilt Show takes place this weekend at the Meaford United Church on Friday, April 12, and Saturday, April 13. Doors open both days at 10 a.m. and close at 6 p.m. on Friday and 4 p.m. on Saturday. This promises to be another spectacular year of approximately 50 new homemade quilts.
Organizers of the annual show gathered to quilt together at the church for many years before the first show was held 28 years ago. One day, one of the ladies suggested that a quilt show be held at the church. That first show included roughly 20 quilts made by members of the church. The quilt show has grown each year over its quarter-century existence: the very first show attracted approximately 100 visitors, while last year more than 350 attended.
In an era when most people visit the nearest big-box store for their bedding supplies, quilting could have already become a lost art if not for quilting groups like the one at Meaford's United Church. Originally, quilting was an economical way to make warm bedding by reusing old materials and fabric remnants, while today many quilts are made from new material, and some never end up keeping anyone warm but are used as wall art.
Attendees are given the opportunity to vote for their favourite handmade quilt, best machine quilt, and best small item on display at the show.
Admission is $5, lunch $8, and afternoon tea $2.