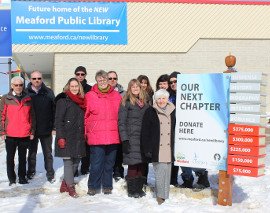 The Meaford Public Library is excited about a new chapter it's about to begin, now that it's received a $150,000 Capital grant from the Ontario Trillium Foundation (OTF).
The grant was awarded earlier this year to the Municipality of Meaford and will enable the library to make upgrades to the mechanical and electrical systems at its new location in the former Foodland building. Local MPP Bill Walker shared his enthusiasm for the project.
"This grant is an investment in the Meaford Public Library which will improve the building's overall operating efficiency and safety of the facility. This funding will enhance community engagement through arts, culture and heritage programs and events, and positively impact the lives of residents and visitors who utilize this very valuable community hub," said Bill Walker, MPP for Bruce-Grey-Owen Sound.
The renovations to the library's new building are expected to get underway in the summer, and finish in the spring of 2020. The new building will offer a single-floor, fully accessible space to house the library's collection, and with the new space, the library will be able to expand its programming space for people of all ages in the community.
"We are very pleased to have been approved for this grant from the Ontario Trillium Foundation," said Fundraising Committee Chair Peter Bantock. "The library provides so much to our community, and this funding will help us improve this important community hub in its new more efficient and accessible home."
"The mission of the Meaford Public Library is to open doors to a world of information, education and recreation, thereby enhancing the economic, social and cultural vitality of our community," said the library.
The Ontario Trillium Foundation (OTF) is an agency of the Government of Ontario, and one of Canada's leading granting foundations. OTF awarded more than $120 million to some 700 projects last year to build healthy and vibrant communities in Ontario. For more information, please visit: www.otf.ca