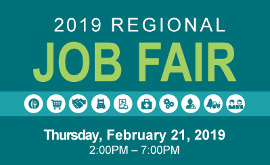 The region's largest job fair is returning to the Bayshore Community Centre on February 21 to help local employers find the qualified workers they need to fill vacancies and grow their businesses. Employers can now register for their booth online at www.grey.ca/job-fair.
Last year, more than 1,000 job seekers attended the fair from all across Grey County and beyond. Grey County's economic development department expects that number to climb even higher this year.
"This year we're expanding our outreach and promotion beyond Grey County's borders," explained Jacinda Rudolph, outreach coordinator with Grey County's economic development department. "With one of the lowest unemployment rates in the province, Grey County is full of opportunities for meaningful employment and it's a great place to settle down. We want job seekers from all over to know how great of a place this is to live and raise a family."
The job fair will run from 2 p.m. to 7 p.m. on the arena floor at the Bayshore Community Centre. Employer booths are ten feet square and include drapery and table cloths, free wi-fi and optional electrical service. The venue will also include an employer-only lounge with refreshments and private spaces for on-the-spot interviews. Booth registration is $75 to help offset costs and expanding marketing.
"The job fair isn't just for Owen Sound, it's for all of Grey County. Job seekers are interested in opportunities in several communities. We're encouraging employers from across the County to register so they don't miss out on the chance to meet their perfect candidate," said Rudolph.
Employers are expected from all nine local Grey County municipalities. Employers from outside of the County are also welcome if they employ locally and support the regional economy.
The Regional Job Fair is a collaborative event supported by Grey County, the YMCA Owen Sound, Georgian College, the City of Owen Sound, and the Four County Labour Market Planning Board.
For questions about the job fair, contact Jacinda Rudolph, economic development outreach coordinator, at jacinda.rudolph@grey.ca or call 519-372-0219 ext. 1270.