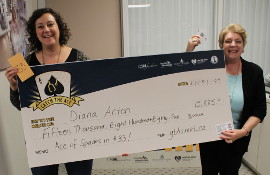 Congratulations to Diana Acton from Southampton, who not only won $855 in the Week 18 draw but she also won the $15,885 progressive jackpot, an amount of money that has been growing since the first ticket was sold. The Ace of Spades was revealed in envelope 33.
"I am so thankful to all of the staff and volunteers who made this lottery possible! I am also grateful to the community for supporting this important fundraising need," said Diana Acton. Acton is looking forward to taking the trip she and her late mother talked about. When asked why she chose envelope 33, Acton recalled a former boss telling her that age 33 was the perfect age.
"A heartfelt thank you to all who participated in the success of this lottery. The success would not have been possible without the help of our ticket sellers, buyers, volunteers, and staff," said Amy McKinnon, Owen Sound Regional Hospital Foundation's Executive Director.
Funds raised from Catch the Ace GBHS will support the purchase of an MRI system at Owen Sound Regional Hospital. The MRI in the Owen Sound Regional Hospital is used over 11,000 times per year on patients from across Grey and Bruce to diagnose a range of medical conditions. Tests done with the next generation of MRI technology will be faster, quieter, and more comfortable for patients, and will provide physicians with higher quality images to aid in more accurate diagnoses.
As Owen Sound Regional Hospital Foundation's AGCO license 9997 concludes, please visit www.gbhsmri.ca or contact your local hospital foundation to learn about the MRI system and opportunities to donate.
Bruce Peninsula Health Services Foundation 519-534-5856
Centre Grey Hospital Foundation 519-986-3040
Meaford Hospital Foundation 519-538-1311 ext. 4208
Owen Sound Hospital Foundation 519-372-3925
Saugeen Memorial Hospital Foundation 519-797-3230 ext. 3230
Photo: Amy McKinnon, Executive Director of Owen Sound Regional Hospital Foundation, presents Diana Acton, progressive jackpot winner, a cheque for $15,885.