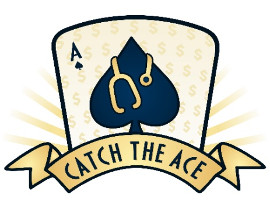 With weekly prizes of between $400 and $760, and winners like Caleigh Ryckman from Mount Forest who won $565 in the Week 14 draw, Catch the Ace GBHS is steadily growing.
The progressive jackpot now sits at an estimated $11,400 and is expected to grow to over $12,000 this coming week, as tickets are sold. Funds raised will support the purchase of an MRI system at Owen Sound Regional Hospital.
In the Owen Sound Regional Hospital Foundation office, there are now 38 playing cards individually sealed in manila envelopes on display. These envelopes are numbered from 1 through 52, with the exception of the envelopes already opened by the weekly winners. Nobody knows which envelope contains the Ace of Spades – until one lucky weekly winner catches it.
The MRI in the Owen Sound Regional Hospital is used over 11,000 times per year on patients from across Grey and Bruce to diagnose a range of medical conditions. Tests done with the next generation of MRI technology will be faster, quieter, and more comfortable for patients, and will provide physicians with higher quality images to aid in more accurate diagnoses.
Catch the Ace tickets can be purchased in many places throughout Grey and Bruce Counties. For more information or to find where tickets are available near you, please contact your local hospital foundation offices: Owen Sound, Meaford, Wiarton, Southampton, and Markdale, visit www.gbhsmri.ca, or follow @CatchTheAceGBHS on Facebook. Don't forget to watch each weekly draw on the Facebook live stream or watch the video recordings posted to the Facebook page when you have a spare minute.
Ticket purchasers must be 18 or over to participate. For more information visit www.gbhsmri.ca or contact your local hospital foundation:
Bruce Peninsula Health Services Foundation 519-534-5856
Centre Grey Hospital Foundation 519-986-3040
Meaford Hospital Foundation 519-538-1311 ext. 4208
Owen Sound Hospital Foundation 519-372-3925
Saugeen Memorial Hospital Foundation 519-797-3230 ext. 3230

A.G.C.O. Licence #9997 has been issued to Owen Sound Regional Hospital Foundation.