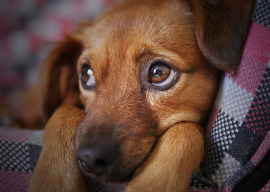 Anxiety is a common problem in dogs. For many, it can significantly change the loving dynamic of the human/animal bond. Dealing positively with dog anxiety can be a complicated process, as it requires an open mind and a lot of patience.
There are many forms of anxiety, and it can manifest in a number of ways. In fact, the symptoms of anxiety can be vastly different between canines – even between those living in the same household! It's no wonder dog anxiety commonly leads to stressful environments at home and in public.
What Does Dog Anxiety Look Like?
While this is not an exhaustive list, these are the four most common symptoms of anxiety:
Excessive salivation

Pacing, and restless behaviour

Persistent barking, howling, or whining

Destructive behaviour to the home
These symptoms are not necessarily unique to anxiety alone. If your dog is displaying any of these symptoms, first have them checked out by a veterinarian. It is important to rule out any underlying health problems before treating for anxiety.
Since every dog is different, the effectiveness of anxiety treatments may vary from one dog to another. If your dog seems to be suffering from anxiety, try several solutions to find out which approach works best for yours.
Be patient! Anxiety is not something that can be cured overnight. For many dogs, treating anxiety is a lifelong process.
Stay positive. I know what it's like to feel frustration when an anxiety-ridden dog destroys your home. Punishing a dog will only perpetuate this behaviour; he is not acting out because he chooses to, he is panic-ridden.
Treating Anxiety
There are many approaches to treating pet anxiety, so here are a few of the most common methods. Finding out what treatments yield the best results is subject to experimentation and positive reinforcement.
1. Exercise
There is a saying, 'a tired dog is a happy dog'.
Exercise is the front line in treating canine anxiety. Just as active lifestyles can benefit human mental health, the same applies to our fur-buddies. Generally speaking, the higher the exercise, the lower the anxiety.
2. Body Language
Dogs are impressively perceptive. They are fluent in body language and study our every move. The way we move and act is commonly where canine anxiety can begin and end. For example, you reach for your keys as you head off to work, and your dog's immediate reaction is "you're leaving me?!"
To your dog, those keys are a trigger. Try mixing up your routines so your dog doesn't connect the anxiety dots so easily. Pick up your keys for no reason. Put on your work clothes on a Sunday morning. Be less predictable.
3. Get Creative
Sometimes, there is nothing better than an irresistible treat. Perhaps that treat is more interesting to your pooch than the fact you're about to leave the house.
By providing a positive and constructive alternative to the stress trigger - like a peanut butter stuffed toy – dogs will fixate less on the negative, and instead will show excitement for their amazing reward.
4. Consider Supplements
There are numerous pet anxiety remedies on the market today, but none more popular than CBD-related supplements. CBD is the super-healer component found in hemp, and is effectively used among pets and humans for treating anxiety. CBD-infused products for pets include oils and tinctures, capsules, balms, and treats.
Using pressure to relieve anxiety has been commonly practised for years. Compression garments are designed to apply soothing, gentle pressure to ease stress. They are especially popular when it comes to negative triggers like fireworks or thunderstorms.
When it comes to herbal supplements, there are many stress-reducing options to consider. Yellow Jasmine, Skullcap, and Passion Flower are commonly used to aid in calming dog anxiety. Speak to a holistic veterinarian before trying any of these ingredients yourself. Otherwise, there are many great products on the market to try.
Just as human mental health awareness has increased in our society, the same applies to pet mental health and well-being. The real key to effectively treating pet anxiety is to understand anxiety first. With the right knowledge, we can work towards creating positive, long-term changes for your furry little friend. If you need help with your anxious canine, come into the store and speak with me. Together we can find a solution.
Brandon Forder – also known as The Pet Expert - is vice-president of Canadian Pet Connection, a family-owned and -operated business located in Meaford. He has over twenty years' experience specializing in pet nutrition, behaviour, and lifestyle. Canadian Pet Connection is an industry leader committed to providing their clients with the highest levels of personal, attentive service. Learn more at www.CanadianPetConnection.ca/dog-products/dog-care/dog-calming-products/