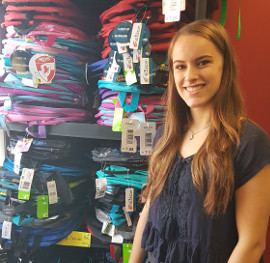 The United Way has announced that Sarah Raynsford has been hired as the 2018 Backpack Program Co-ordinator. A recent graduate of St Mary's High School, Sarah is also a provincial champion figure skater.
Packing and distributing such a large number of backpacks requires an extensive amount of supplies to help children in primary school to high school. Among the needed supplies are over 15,000 pencils, 11,000 pens, 2,000 pencil cases, and binders and rulers among many others.
'Every backpack has a child' is the cornerstone philosophy behind the United Way's annual Backpack Program. The United Way wants school to be a positive experience for all children, regardless of their economic situation. By providing school supplies to low income children, the United Way is providing the tools needed to start off the year on the right foot. Since 2005 the United Way has distributed over 21,000 backpacks throughout Bruce and Grey Counties.
The United Way creates the backpacks on two factors; gender and grade level.
Boys do not get pink or purple unless they request it, and girls can avoid pink and purple if they request it. Four grade levels are created to ensure that the right supplies are provided for the right age group.
Local agencies review their client lists and send the United Way a bulk request for supplies. This enables them to plan for the large numbers and have a distribution system to get the backpacks to the children.
The community approach is direct from the families themselves. Either through word of mouth or the media, families learn of the program and call 211 to be placed on the list.
Sarah is looking for volunteers, donors and other events and meetings to share the impact of the Backpack Program for children and youth in our community.
If you wish to volunteer please call 519-376-1560.
Every year, the United Way hosts 'Stuff the Bus' drives in partnerships with local businesses where members of the community can make a donation. This year the drive is being held at Staples in Owen Sound from Thursday, August 23 to Saturday, August 25. Your help and support will make a big difference in the lives of vulnerable children and youth in Bruce-Grey.
To make a donation please visit www.donatetoday.ca, call 51-376-1560, mail a cheque, or visit the United Way at 380 9th Street East, Owen Sound, N4K 1P1. If you wish to access the Backpack Program please call 211.
For more information please call the United Way at 519-376-1560.