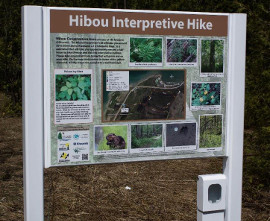 June 28 is the grand opening for the Hibou Wetlands Interpretive Trail, and those planning an outing to the trail this summer will be able to find their way with the Hibou Interpretive Hike Guide.
For daily visitors, the guides are available from holders on the two new signs at main entrances to the trail or download at www.friendsofhibou.com. A map inside the guide will help guide you along the path and 15 featured stops. The photos in the guide highlight the landscape features, wildlife habitats, plants, and trees that make Hibou and this trail a special place to visit. Using the guide and looking at the numbers as you travel around the trail you will learn more about this great area.
Hibou consists of about 20-30 hectares of wetland and is an area of great diversity. The interpretive trail is a 1.7 kilometres loop with 15 information stations (it is estimated that it may take up to 1 1/2 hours to complete). Please consider returning the guide to the box on the sign when you complete your hike.
"Friends of Hibou are thankful for all the support they received in constructing this interpretive trail and developing the guide. The Friends of Hibou group was established in 2013 to help maintain and upgrade Hibou Conservation Area. Please stay on the trail and keep your dog on a leash," said organizers.
Hibou also offers half a kilometre of sandy beach for the best sandcastle building around! It's a great place for the young and old to cool off on a hot day and is only six minutes from Owen Sound. Hibou is open from June to the Labour Day Weekend, with clean washrooms and changerooms, pavilions, picnic tables along the beach, and hiking opportunities.
Hibou is located at 359186 Grey County Road 15 in Meaford, just outside Owen Sound on Georgian Bay.