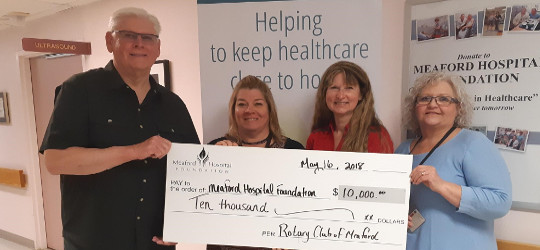 The Rotary Club of Meaford recently stopped by the office of the Meaford Hospital Foundation with a cheque for $10,000, which is their final commitment for the Oncology Unit upgrades/renovations at the Owen Sound Regional Hospital.
The unit has become home to many local patients and their families while loved ones go through treatment. The Rotary Club has been involved in our community and have been donating to the Meaford Hospital Foundation since 2005. Their contributions over the years have totalled a staggering $185,952.77.
The Meaford club has been involved in a wide variety of worthy causes. Some of these include financial support for the arena and artificial ice installation, support to the Food Bank, funds for the expanding Meaford hospital, assistance to the Meaford Curling club, taking a lead role for the purchase and operation of a handi-van and support for the building of a skateboard park. Annually the Rotary Club provides continuing support to our schools through scholarships and bursaries plus direct support to school programs. Our community also has a new entrance to our harbour leading to the Rotary Pavilion, both items built and funded by Rotarians. Rotary is always looking to enhance their volunteer committee so please keep that in mind if you are looking for a community minded organization to join.