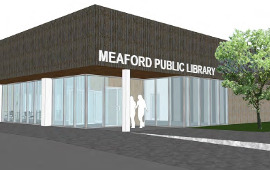 On Wednesday, June 27, members of the public will be able to see the floor plan for the new Meaford Public Library at 11 Sykes Street North. A final library design reveal will take place at 6 p.m. at the site of the new library facility.
The architect for the project will give a presentation at 6:30 p.m., followed by a question period, and images for the new library will be available for viewing.
"The project steering team is very excited about the final design and would like to thank those who came out to the stakeholder engagement meetings in January to provide input," noted Darcy Chapman, Director of Financial Services and Infrastructure Management. "The floor plan and design have been changed considerably due to the public feedback. This meeting will give you the chance to review the design to ensure we are developing a facility that will meet your needs as patrons of the library."
Come out to this exciting event and see what the new library is going to look like. Municipal and library staff will also be on hand to discuss the floor plan and answer your questions.
Library supporters are encouraged to donate to the new Meaford Public Library Fundraising Campaign. Cheques made out to the Friends of the Meaford Library can be dropped off at the library, or you can donate online at: www.meaford.ca/new-library-building.