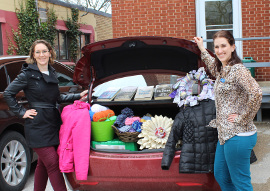 Who doesn't love a trunk sale?
This summer, the Meaford Public Library Fundraising Committee will be hosting four Trunk Sales to raise money for the new library building. On four Saturdays throughout the summer, the parking lot of the new library facility at 11 Sykes Street North (former Foodland location) will be transformed into a huge Trunk Sale.
Rent a parking spot and sell your art, crafts, and other items from the trunk of your car. If you prefer, you may also bring along a table to display your wares. Each parking spot rents for $25 for the day or rent two spots for $40. Money raised goes to support the new Meaford Public Library building.
Even if you have nothing to sell, drop by and shop for bargains. You never know what you might find. There will be up to 35 parking spots available so lots to choose from!
The dates for the Trunk Sales are Saturday, May 26, June 30, August 4, and September 1. The hours are 10 a.m. to 3 p.m. and you can set up beginning at 9 a.m.
Space is limited so reserve your parking spot today at the Meaford Public Library. For more information, call 519-538-1060 ext. 1123 or email info@meafordlibrary.on.ca.
Information on the new library is available at: www.meaford.ca/newlibrary. Donations to the new library can be made to the Friends of the Meaford Library at that website or at the Meaford Public Library.
Photo: Library staff members Amy Solecki (left) and Ashley Trusler get ready for the Trunk Sales this summer.