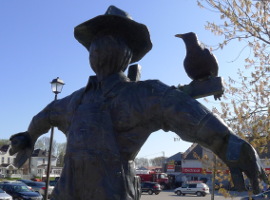 After mysteriously disappearing last August, Schubird's bird is back.
Schubird, the bronze statue of a scarecrow created by Meaford resident Gunter Neumann in honour of Meaford's long-running Scarecrow Invasion & Family Festival, has been stationed on Sykes Street outside Meaford Hall since 2009.
The statue has provided fun photo opportunities for visitors and residents alike over the years, but in August of last year its creator noticed that Schubird was missing his bird.
Neumann told The Independent at the time that on the morning of Wednesday, August 16, 2017, he walked past the statue and noticed something missing. Upon further inspection he noticed that the bird, which had been perched atop Schubird's shoulder, was gone.
"It would have taken some force, possibly a hammer, to remove the bird: it's a bronze statue," Neumann said.
This month however the bird is back after Neumann had the bronze bird re-cast and affixed to the statue ready to welcome summer visitors to the community.