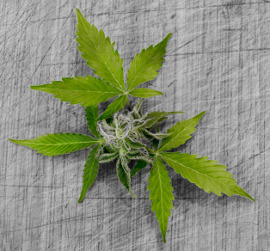 While medicinal cannabis usage and support has been growing rapidly in Canada, there has also been a unique interest in cannabis for pets. Because of this, we're seeing an increase in products entering the market that are geared towards animals.
The medicinal cannabis industry in Canada is growing at an increasing rate after being legalized in Canada in 2001. Although cannabis was initially only prescribed for patients with life-threatening illnesses, such as AIDS and cancer, legislation has evolved and it is now more easily accessible for people looking for an alternative to traditional medications. While initially only available in the form of dried leaves, cannabis patients may now select between oils, tinctures, capsules, and more.
Over only the last few years, the number of registered medicinal cannabis users in Canada has increased by eight hundred percent. It is estimated that by 2021, there will be over 1 million registered users, which is over 3% of our nation's population. Recent polls indicate that over 70% of Canadians are in favour of recreational legalization as well.
But what does this mean for our pets?
Most pet medicines are modeled after human medicine, including everything from painkillers and anti-inflammatories, to blood thinners and vaccinations. Although cannabis isn't a 'cure-all' miracle plant, it does have considerable benefits. It is known to effectively treat a vast array of medicinal conditions, without the undesirable side effects that come with many prescription medications.
However, pets are not biologically identical to humans. Therefore, it is important to understand what the active components are in the cannabis plant, and what their effects are. The effective ingredients in cannabis are known as cannabinoids. There are over 100 cannabinoids in a cannabis plant, but only two are predominantly associated with therapeutic benefits: THC and CBD.
THC, or Tetrahydrocannabinol, is responsible for cannabis's mind-altering effects, commonly known as 'getting high'. THC has both recreational and medicinal applications for humans, however it is toxic for pets. Every strain of the cannabis plant is different, and many are bred specifically to have little or no THC, and higher levels of CBD.
CBD, or Cannabidiol, has no psychoactive effects and is the healing powerhouse stored in the cannabis plant. Its wide range of uses cannot be understated. CBD has been shown to positively benefit areas of the brain associated with coordination and movement, mood, pain and inflammation, memory and more. Millions of people and pets around the globe use CBD-based products to treat everything from pain and anxiety, to insomnia and seizures.
On an increasing basis, pet owners are seeking advice on the benefits of using medicinal cannabis for their dogs, cats, and even bunnies and other small mammals. Commonly, these are pet owners who are fed up with expensive prescriptions, and the laundry list of side effects that come with them. Others are eager to find another treatment option after using conventional medications with little success.
Surprisingly, the use of CBD has become very popular in animal palliative care situations when quality of life care is most time sensitive.
Much of the increased demand for medicinal cannabis can be attributed to social media and online information sharing.
A major barrier for pet-friendly cannabis producers - which have only recently become legal for pets in parts of the U.S. - is that funding has not been available for credible scientific testing. Without proper testing, these products cannot be legalized. There are now numerous legitimate studies from trustworthy sources (like Harvard Medical School and Clinical Neuropharmacology) highlighting the benefits associated with this plant – primarily the use of CBD.
The good news is, CBD can also be derived from hemp, the sister plant to the cannabis plant. And CBD products from hemp are perfectly legal in Canada. There are many high quality brands manufacturing CBD-based hemp products in Canada, both for humans and animals. These products are available in many forms, including oils, tinctures, and dog biscuits. CBD products made from hemp are just as effective as those derived from the cannabis plant.
Medicinal cannabis has changed the landscape of health care in Canada, and is on the doorstep of the pet health sector too.
Brandon Forder – also known as The Pet Expert - is vice-president of Canadian Pet Connection, a family-owned and -operated business located in Meaford. He has over twenty years' experience specializing in pet nutrition, behaviour, and healthy pet lifestyles. Canadian Pet Connection is an industry leader committed to providing their clients with the highest levels of personal, attentive service. Learn more at www.CanadianPetConnection.com.