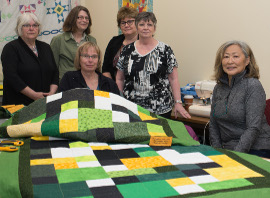 Fourteen handcrafted quilts in the Humbolt Broncos colours are finished, packaged, and ready for delivery to the survivors, families, emergency responders, and friends closely affected by the April 6 tragedy that claimed the lives of 16 people aboard a Saskatchewan Junior Hockey League's Humboldt Broncos bus.
More than 20 local women responded to a call for quilters from Purrsonally Yours quilting instructor Marion Mower two weeks ago to take part in a national project to make 200 lap quilts in the Bronco green, yellow, black, and white team colours. Meaford quilters set out to make six quilts. With the generous donation of fabric, cash, and time, the women produced 14 quilts.
The inscription on the back of each quilt reads:
A comfort quilt from Purrsonally Yours, Meaford, Ontario
Nationally, the number of quilts is expected to exceed the 200-goal.
Photo: standing, l-r: Jan Schultz, Isabelle McInnis, Sue Grant, instructor Marion Mower. Seated: Andria Flaherty, Connie Goman.