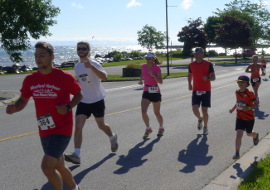 "It is very special to be able to put on an event that combines the love for running, walking, and raising funds for our local hospital foundation," says Jen Johnston, a participant for the past four years. "Our family has been participating in memory of my parents and we are already registered for this year's event. It's a great way to honour their legacy here in Meaford."
Meaford has a long-standing history of road races. When the Apple Harvest Race came to an end after 25 years, Brian Renken, Race Director for the Meaford Harbour 5k Run/Walk, picked up the event for the hospital. Over the past 22 years the race has raised $456,500 for medical equipment, and participation has steadily grown.
This year the Meaford Harbour 5K Run/Walk is celebrating its 22nd Annual Run/Walk on Saturday, July 14.
For those who are competitive runners or walkers the race is chip-timed, which always draws a large group of participants. However, the race is also a chance for those just wishing to enjoy the pleasure of strolling along the lovely shores of Georgian Bay while raising funds for the Meaford Hospital Foundation. This is the sixth year for the free Children's 1k Fun Run which is always exciting and fun for kids 12 and under.
So throw on your runners and bring the kids out for a great time! The event starts at 9 a.m. at the Meaford Harbour pavilion. This year we are excited to introduce a new dry wick t-shirt which will be given to the first 300 participants registered. The registration process is simple and can be done either online at www.mhfoundation.ca or drop into Pharmasave in Thornbury, Runner's Den in Owen Sound, or the LCBO Meaford to pick up a registration form or pledge sheet.
If you register online by May 17 you save $10 off the entry fee and your name goes in a draw for a $200 gift certificate to Runner's Den in Owen Sound, sponsored by Runners Den and Brian Renken Professional Corp. There will also be registration the morning of the race between 7:45 and 8:45 a.m. as well as advance registration on Friday afternoon, July 13, at the Harbour Pavilion between 4 – 7 p.m.
This year both our top female and male runner will receive a $100 gift certificate to Runner's Den in Owen Sound and our top female walker will receive a 'Touch and Toes' package courtesy of The Falls Inn (Walters Falls), while the top male walker receives a $100 gift certificate to Knights' Home Building Centre. There are pledge-based prizes such as a Bose Speaker valued at $250 donated by Bruce Power, an autographed Owen Sound Attack jersey, plus many more for those individuals who raise pledges.
To register go to www.mhfoundation.ca. This year's race is in support of the Meaford Hospital Foundation, and the Harbour Run/Walk goal of $50,000 will be designated to Diagnostic Imaging (X-Ray & MRI).