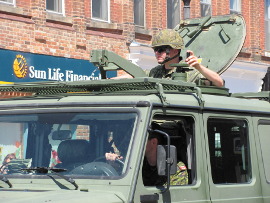 The 1st Battalion Royal Canadian Regiment (1 RCR) will conduct training in the Canadian Forces Base (CFB) Meaford training area from May 1 until 10, 2018.
From May 1 to 6, 150 soldiers from 1 RCR will be conducting training. Residents can expect to hear small arms fire during daytime hours.
Approximately 200 soldiers from Garrison Petawawa will be conducting a military road move between London and Meaford on 6 May, 2018 as a part of Exercise 'Lacplesis Pursuit'.
During this time, local residents can expect to see packets of armoured and non-armoured military vehicles travelling north on highways 4 and 21. Soldiers will be uniformed and carrying personal and vehicle weapons, but will not by firing any ammunition or pyrotechnics. Drivers are always advised to exercise caution and patience if they encounter military vehicles on provincial highways.
From May 7 until May 10, approximately 350 soldiers will be conducting Exercise 'Lacplesis Defender'. During this time residents can expect to hear various small arms fire and pyrotechnics. Training will occur throughout the day and night. On the night of May 10th, residents can expect to hear a controlled explosion from the Meaford training area.
"1 RCR would like to assure residents that all training is conducted in a supervised and controlled environment. We thank the local community for their patience," said CFB Meaford in a press release.
1 RCR is conducting Exercise Lacplesis Defender in preparation for their deployment to Latvia in July on Operation Reassurance, Canada's contribution to NATO assurance and deterrence measures in Central and Eastern Europe.