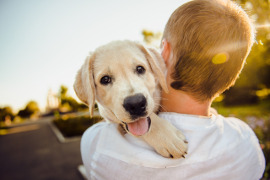 Temperatures are getting warmer, the snow is finally melting away, and the days are lasting longer - in the pet industry, we call this puppy season. Every spring, there is an influx in new pet ownership; it's the perfect time to commit to house training, and increasing time spent on walks. After all, who wants to be standing outside in February waiting for their puppy to do his business? Temperate climates are a big reason why many get the 'puppy bug' around this time every year.
But with so many breeds to choose from, how can you ensure you're selecting the right breed for your family? There are countless shapes, sizes, and varieties to consider; it can be overwhelming. And while some breeds have common traits, such as temperament and energy levels, every individual dog is going to be unique.
Here are two simple tips to help during the decision making process.
Do Your Homework
Owning a dog is a serious (and absolutely wonderful) long term commitment. Many breeds have life expectancies in excess of 15 years, so you want to make sure you take your time when doing your research.
First, ask yourself a few questions. Would I be best with a less active dog, or will we be running marathons together? What are the best family-friendly breeds? Am I prepared for the costs involved if my pet gets sick? Stuff like that.
Pop culture can be a big influencer, too. Studies show significant increases in demand for breeds featured in television and movies, like 101 Dalmatians and Lassie, for up to ten years. While some breeds may seem like the perfect companion on-screen, it is important to learn more about how those breeds behave in real life settings.
Make a list of breeds you are interested in, and as you learn more about them, refine your list until you have a shortlist; two or three that suit your lifestyle better than the rest. You won't be short of options.
High energy breeds like Labrador Retrievers are prone to behavioural issues without sufficient exercise and stimulation. If you are considering a high-energy breed, it is important to have a plan in place beforehand, to be sure you will be able to keep up with their needs. On the other hand, it is unrealistic (and dangerous) to expect a lesser-active breed, such as a Bulldog, to endure bouts of strenuous exercise.
When you are sure about which breed will suit you best, look for reputable breeders in your area. Some important indicators of a good breeder are transparency (are they open to visitors seeing their facilities and meeting with their puppies?), reputation (many breeders will offer a list of referrals that will gladly take your call and answer questions), their knowledge about the breed, and also their level of professionalism.
Consider Your Alternatives
While it is amazing to experience the excitement of a brand new puppy, it takes a lot of work. Many potential pet owners may prefer an older dog, one who is more settled and may already have some basic training skills. While it varies by breed, most dogs become adults between 12 and 18 months of age.
Increasingly, many pet owners are using the mantra 'Adopt. Don't Shop", as they choose to open up their homes (and hearts) to a dog from a rescue or shelter. Shelters are overburdened with an ever-increasing problem, and adopting helps to open up a spot for another dog in need. Shelters generally have a healthy combination of mixed breed and pure breed dogs; why not see what your local shelter has available? One of the great things about mixed breed dogs is they are typically less prone to many genetically predisposed health complications.
There are also independent breed-specific and size-specific rescues, and there are less-specific shelters re-homing dogs of all shapes and sizes. The method to finding the best rescue dog is the same as finding a new puppy – you want to pick a dog that suits your lifestyle best, or adapt your lifestyle to best fit their needs. All reputable dog rescues have a screening process that will help you find your perfect match.
Providing a forever home to a rescue dog is one of the most rewarding experiences one will have in their pet-owning lifetime.
No matter which path you take on your new adventure, enjoy your new lives together!
Brandon Forder – also known as The Pet Expert - is vice-president of Canadian Pet Connection, a family-owned and -operated business located in Meaford. He has over twenty years' experience specializing in pet nutrition, behaviour, and healthy pet lifestyles. Canadian Pet Connection is an industry leader committed to providing their clients with the highest levels of personal, attentive service. Learn more at www.CanadianPetConnection.com.