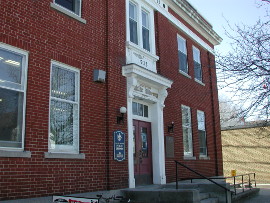 The Municipality of Meaford and Meaford Public Library have announced that a grant for a total of $4,525.76 has been received for the provision of enhanced accessible technologies.
The grant was received through the Enabling Accessibility Fund - Community Accessibility Stream. The funds will be used to improve accessible offerings at the Meaford Public Library, including the purchase of a screen reader for a public access computer, a Victor Stratus Reader, Playaway book readers, magnifiers, and daylight floor lamps.
Benefits for patrons with accessible needs include increased access to the public accessible computer, enjoying audiobooks from home with the use of the portable readers, and resources will be easier to access using the magnifiers combined with better lighting at the library.
Library staff will be introducing the new technologies to patrons over the next several months, including during National AccessAbility week, May 28 – June 4, and at the How-To Festival on June 2.
"Public libraries are here to serve all members of our community, and with the addition of these news items, patrons will now be able to access library resources they may not have been able to in the past," said Branch Manager and Deputy CEO, Lynne Fascinato.