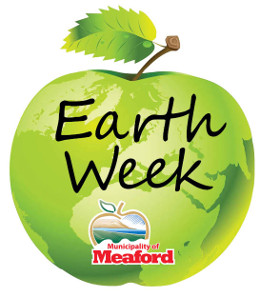 The Municipality of Meaford will once again celebrate Earth Week this year with a range of activities and initiatives that will run from April 21 through to April 29.
Building on the success of the first four years of this initiative, the week is packed full of interesting activities and learning opportunities, all focused on the protection and improvement of our environment.
Kicking off Earth Week on Saturday, April 21 this year is the ECO-Fair, from 10 a.m. - 2 p.m., at the Meaford & St. Vincent Community Centre. At the ECO-Fair, eco-friendly vendors will showcase and sell products that are produced from upcycled or recycled materials. Come and find creatively upcycled products or processed products made locally with care of the environment in mind. There will be live entertainment by John Bino, William Henry and friends, activities for kids, and a delicious lunch offered by Jo Keenan. There will also be a series of workshops at the event:
Ask an Organic Inspector: 10:15 - 11 a.m.
Chuck Mitchell, an organic farm processor and inspector for the Canadian Food Inspection Agency
Building a Tiny Home: 11 – 11:45 a.m.
Zoe Young
Solar: The Empowering Energy: 11:45 a.m. - 12:15 p.m.
Joy and Rob Black, of Blackline Power
Nature's Edible and Medicinal Plants: 12:15 – 12:45 p.m.
Heather Bakazias, 40+ years of herbal medicine experience
Starting Seedlings and Transplanting: 12:45 – 1:15 p.m.
John Howard, of Howard Florist and Greenhouses
Planning Your Climate Resilient Farm: 1:15 – 2 p.m.
Ivan Chan, of Eden in Season
On Sunday, April 22, at 10:30 a.m., Jimelda Johnson (Ogimah Binesse Kwe, Chief Thunderbird Women) will be speaking on 'Healing the Earth' at the Christ Church Anglican, 34 Boucher St. E.
For the eighth year in a row, The Meaford Independent and the Friends of Memorial Park are once again hosting the annual Memorial Park Clean-up from 1 - 3 p.m. on Sunday, April 22. Come and join us in the annual spring clean-up of Memorial Park. Bags and plastic gloves are provided. At 1 p.m. sharp there is a short safety briefing. Refreshments are provided by The Meaford Independent. Young children should bring along an adult.
A special event for local students, sponsored by the Meaford Hall & Culture Foundation, will take place at Meaford Hall Thursday, April 26, with a showing of the documentary film Project Wild Thing, encouraging more kids to get outside and reconnect with Nature. Admission is free for students.
Saturday, April 28 will see the return of the annual tree sale at the Grey Sauble Conservation Administration Centre on Inglis Falls Road. Bring your own containers and fill them up with trees for your home garden. This year they'll also have native wildflowers on hand that are great for pollinators. The tree sale runs from 8 a.m. until noon.
Wrapping up Earth Week on Sunday, April 29, will be a talk by local writer and psychoanalyst Rosemary Gosselin, about mystical landscapes and the power of art and nature in re-awakening the soul, at Christ Church Anglican during their 10:30 a.m. service.
You can find a full listing of Earth Week events by visiting meaford.ca/earthweek.