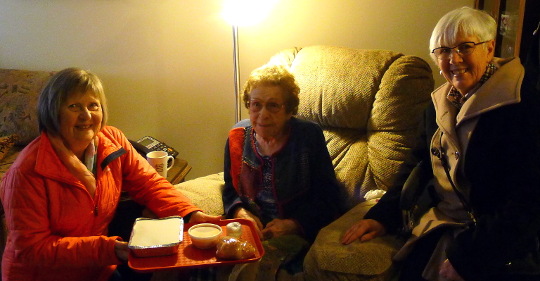 Last week, Meaford Mayor Barb Clumpus helped deliver meals to residents who use the Meals on Wheels program run by the Home & Community Support Services of Grey Bruce, as part of the annual March For Meals campaign.
For Mayor Clumpus, the morning of deliveries brought back memories of her own volunteer service to the organization during her first term on council. Accompanying the mayor were volunteers Laurie and Ken Adams as well as Tina Ziel from Home & Community Support Services of Grey Bruce.
The first meal delivered on Wednesday morning was to 103 year-old Viola Knight. Viola told the mayor and volunteers that she will turn 104 later this month. After some reminiscing accompanied by smiles and a few laughs, the mayor and volunteers continued on with the morning's deliveries.
The service provides clients with a hot meal delivered to their door around lunch time for a small fee. The meals are planned by a registered dietitian and accommodate a variety of special diets and dietary restrictions. The majority of the meals delivered under the program are for elderly people who may have difficulty preparing their own meals, but others, including those with disabilities or who are recovering from a major surgery can also benefit from the program.
For Meaford participants in the program, the meals are prepared by McGinty's Cafe on Sykes Street before being packaged for delivery by volunteers.
"Meals on Wheels has a history that dates back to London, England, during WWII, when a local resident had more food than expected, so she delivered the extra to her isolated neighbour, who thoroughly enjoyed the visit and the meal. It is because of similar foresight from local Grey and Bruce residents that we have the Meals on Wheels programs. Grey and Bruce Counties are filled with neighbourly people who wish to help others when they are in need. These volunteers show their dedication to their community, and are part of the reason that Grey and Bruce Counties are such great places to live," said Home & Community Support Services of the program.
The Meals on Wheels program in Meaford relies on 18 volunteers to deliver 1,456 Meals a year. Meals are delivered four days a week. The schedule for volunteers is very flexible – some volunteers deliver once a week, some once a month. If you are interested in volunteering please call 519-372-2091 and press 6, or 1-800-267-3798 press 6, or www.homecommunitysupport.com
Photo: (L to R) Meals on Wheels volunteer Laurie Adams delivers a meal to Viola Knight along with Meaford Mayor Barb Clumpus.